Celine Dion wins fans over in Taipei debut 流行歌后席琳來台 首唱征服上萬歌迷
The wait is finally over for the fans of pop diva Celine Dion, who is holding three concerts at the Taipei Arena during her first visit to Taiwan. At her first concert last night, Celine opened the show with her passionate ballad, "The Power of Love." She sang almost 20 classic hits, winning over the over 10,000 Taiwanese fans with her dazzling style and stage charisma.
Celine surged to international fame with her megahit "My Heart Will Go On," the theme song from the 1997 blockbuster movie "Titanic." With over 250 million copies of her records sold in a career spanning over three decades, the Canadian superstar is one of the most celebrated singers in the world.
Her Asian concert tour started off last month in Tokyo, followed by Macau, Singapore, Jakarta, Taipei, Manila, and Bangkok, before moving on to several cities in Australia and New Zealand next month.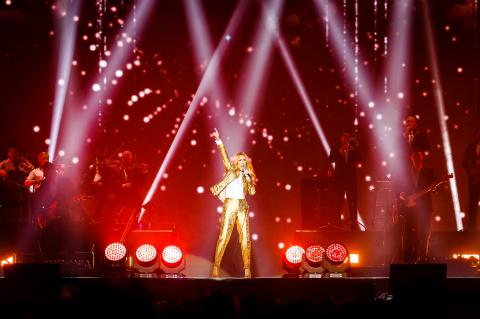 Celine Dion performs at the Venetian Macao Resort Hotel in Macau on June 29. 流行歌后席琳狄翁於六月二十九日,在澳門威尼斯人酒店的演唱會表演。
Photo: CNA
照片︰中央社
(Eddy Chang, Taipei Times)
流行歌后席琳狄翁在歌迷多年期盼下,終於首度訪台攻蛋並連唱三場。首場演唱會昨晚登場,席琳以慷慨激昂的「The Power of Love」揭開序幕,全場帶來將近二十首經典歌曲,以巨星風采和舞台魅力征服了上萬台灣粉絲。
席琳因演唱一九九七年熱門電影「鐵達尼號」主題曲「My Heart Will Go On」而爆紅,這位加拿大籍超級巨星縱橫歌壇超過三十年,唱片銷量更突破兩億五千萬張,可說是全球最著名的歌手之一。
她的亞洲巡演於上個月自東京起跑,之後包括澳門,新加坡、雅加達、台北、馬尼拉和曼谷等地,下個月還將前往澳洲、紐西蘭多個城市演出。
(台北時報張聖恩〉
Publication Notes
TODAY'S WORDS
今日單字
1. passionate adj.
激昂的 (ji1 ang2 de5)
2. win over phr.
征服 (zheng1 fu2)
3. theme song phr.
主題曲 (zhu3 ti2 chu3)
4. Titanic n.
鐵達尼號 (tie3 da2 ni2 hao4)
5. celebrated adj.
著名的 (zhu4 ming2 de5)
Comments will be moderated. Keep comments relevant to the article. Remarks containing abusive and obscene language, personal attacks of any kind or promotion will be removed and the user banned. Final decision will be at the discretion of the Taipei Times.