UN says world choking on plastic as environmental crisis grows 聯合國:塑膠淹沒了世界 環境危機加劇 
Up to five trillion grocery bags are used each year and like most plastic garbage barely any is recycled, the UN said last Tuesday as it warned the world was choking on trash.
In a report for International Environment Day, the UN warned at current levels the earth could be awash with 12 billion tonnes of plastic trash by the middle of the century.
"Our oceans have been used as a dumping ground, choking marine life and transforming some marine areas into a plastic soup," said Erik Solheim, head of UN Environment, in the report released in New Delhi, India.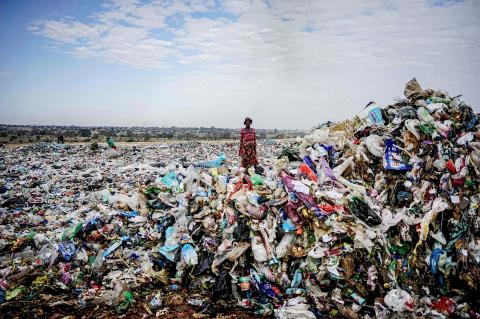 A recycler stands among a tons of plastic rubbish at a sanitary landfill on June 2 in the industrial city of Bulawayo, Zimbabwe. 掩埋場中一名回收商站在巨量塑膠垃圾之間。六月二日攝於辛巴威工業城布拉瓦約。
Photo: AFP
照片:法新社
"In cities around the world, plastic waste clogs drains, causing floods and breeding disease. Consumed by livestock, it also finds its way into the food chain."
Most of this plastic garbage clogging waterways and landfill is single-use items like straws, bags and cutlery.
The report said the five trillion plastic bags consumed each year equalled nearly 10 million plastic bags per minute. "If tied together, all these plastic bags could be wrapped around the world seven times every hour."
Some 79 percent of the plastic ever made has ended up dumped, with hardly any reused or destroyed despite recycling and other initiatives to curb use, the report said.
Just nine percent of the nine billion tonnes of plastic the world has ever produced has been recycled. Only a little more — 12 percent — has been incinerated.
This leaves only landfill, oceans and waterways as the resting place for the world's plastic trash, where it takes thousands of years to decompose.
Plastic clogging sewers — a major problem in Delhi and slums across the developing world — can spread disease or wind up in the stomachs of animals, the UN said.
In India, plastic has been found inside dead cows while a whale in Thailand died after consuming waste bags.
Garbage floating at sea costs fishing, shipping and tourism industries in the Asia-Pacific US$1.3 billion a year, the report says.
The UN said more than 60 countries had introduced bans and levies on single-use plastic items like bags.
But better waste management, financial incentives to change consumers' buying habits and research into alternative materials were needed to make any real change, it added. "To meet the rising tide of plastics, we urgently need strong government leadership and intervention," the report said.
(AFP)
聯合國上週二警告說,全世界每年使用高達五兆個購物袋,且如同大多數塑膠垃圾一樣,這些袋子幾乎沒有再回收利用,世界已然被垃圾堵塞而窒息。
聯合國在國際環境日所發布的報告中警告說,照目前的程度來看,到本世紀中葉,地球上可能會充斥著一二○億噸塑膠垃圾。
「我們的海洋被當成垃圾傾倒場,使海洋生物窒息,並將一些海洋區域變成塑膠湯」,聯合國環境署署長艾里克‧索爾海姆在印度新德里發布的報告中說。
「世界各地的城市中,塑膠垃圾塞滿排水系統,造成淹水並孳生疾病;在被牲畜吞食後,也進入了食物鏈。」
這些塞滿航道和垃圾掩埋場的塑膠垃圾,大部分是一次用物品,例如吸管、袋子和餐具。
該報告說,每年消耗五兆個塑膠袋,相當於每分鐘消耗近一千萬個塑膠袋。「如果把所有這些塑膠袋綁在一起,每小時可以環繞世界七次。」
報告中說,儘管回收利用和其他措施遏制了塑膠的使用,但自開始製造塑膠以來,大約有百分之七十九的塑膠最後是被丟棄,幾乎未經重複使用或銷毀。
全世界有史以來所製造的九十億噸塑膠中,僅有百分之九被回收再利用。只有再多一點點的比例──百分之十二,被焚化。
這使得垃圾掩埋場、海洋和航道成為全世界塑膠垃圾的長眠處,要費時數千年才能夠分解。
聯合國表示,被塑膠堵塞的下水道──這是德里和發展中國家貧民窟的一大問題──可能會傳播疾病或讓塑膠最終來到動物的胃中。
印度在死牛的肚裡發現了塑膠,而泰國有隻鯨魚在吞食垃圾袋後死亡。
這份報告說,漂浮在海中的垃圾每年造成亞太地區漁業、航運和旅遊業的損失達十三億美元。
聯合國表示,已有六十多個國家對一次用塑膠物品,例如塑膠袋等實施禁令和徵稅。
聯合國補充說,要真正改變情況,需要有更好的廢棄物管理、改變消費者購買習慣的財政鼓勵措施,以及研發替代材料。「為因應塑膠愈發泛濫的情勢,我們迫切需要強有力的政府領導與介入」。
(台北時報林俐凱編譯)
Publication Notes
TODAY'S WORDS
今日單字
1. choke v.
使窒息;堵塞
(shi3 zhi4 xi2; du3 sai1)
2. awash adj.
充斥的;被浪沖刷的
(chong1 chi4 de5; bei4 lang4 chong1 shua1 de5)
3. clog v.
塞滿
(sai1 man3)
4. curb v.
抑制;約束
(yi4 zhi4; yue1 shu4)
5. wind up phr.
最終來到
(zui4 zhong1 lai2 dao4)
Comments will be moderated. Keep comments relevant to the article. Remarks containing abusive and obscene language, personal attacks of any kind or promotion will be removed and the user banned. Final decision will be at the discretion of the Taipei Times.