Korean boyband BTS makes history by topping Billboard album chart 「防彈少年團」 告示牌奪冠創歷史紀錄
Hit South Korean boyband Bangtan Boys, better known as BTS, reached a milestone last week, becoming the first K-pop group to top the Billboard 200 chart that ranks albums via sales, downloads and streams. The group's new album — "Love Yourself: Tear" — is the first primarily Asian-language album to debut at No. 1 in music history.
According to AFP, the boyband, known for their boyish good looks, floppy haircuts and sophisticatedly choreographed dance moves, has become South Korea's best known and most lucrative musical sensation. The seven members include Jin, Suga, J-Hope, RM (Rap Monster), Jimin, V and Jungkook. The huge success of their new album perfectly demonstrates K-pop's global appeal.
Apart from in Asia, the boyband has numerous social media followers in most parts of the world. It was in fact the most talked-about thing on Twitter last year, and can be called a truly "supergroup." BTS, along with a few other Korean groups, are set to perform at SBS Super Concert in Taipei on July 7.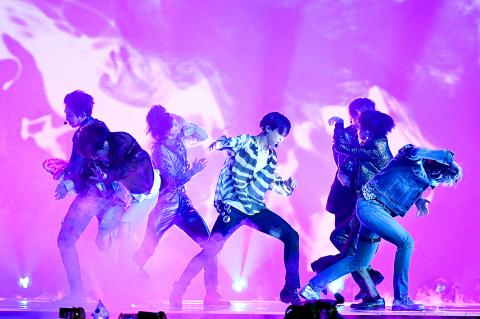 Hit South Korean boyband BTS performs at the 2018 Billboard Music Awards on May 20 in Las Vegas, US. 南韓人氣男子團體「防彈少年團」,在二○一八年告示牌音樂獎演出,該活動於五月二十日在美國拉斯維加斯舉行。
Photo: AFP
照片︰法新社
(CNA, translated by Eddy Chang)
南韓人氣男子團體「防彈少年團」上週創下里程碑,成為第一個攻占告示牌200專輯排行榜冠軍的韓流團體,這項排行榜是根據專輯銷售量、下載和串流播放次數進行排名。該團的新專輯—「Love Yourself轉'Tear'」—更是音樂史上,第一張在發行首週空降冠軍的亞洲語言專輯。
根據法新社報導,這個以花美男俊俏臉孔、蓬鬆髮型和精心編排舞蹈動作著稱的七人男團,如今已成為南韓最知名且最吸金的樂團,團員包括Jin、Suga、J-Hope、RM(Rap Monster)、Jimin、V和Jungkook。這次新專輯巨大的成功,正是韓流席捲全球的最佳範例。
他們不只在亞洲,幾乎在世界各地都有大批社群媒體粉絲。該團還是去年推特上的最熱門關鍵字,可說是真正的「超級天團」。「防彈少年團」預計將在七月七日,和其它幾組韓團前來參加在台北舉辦的SBS Super Concert演唱會。
(台北時報張聖恩)
Publication Notes
TODAY'S WORDS
今日單字
1. boyband n.
男子團體 (nan2 zi3 tuan2 ti3)
2. milestone n.
里程碑 (li3 cheng2 bei1)
3. debut v.
初登場 (chu1 deng1 chang3)
4. lucrative adj.
吸金的;賺錢的
(xi1 jin1 de5; zhuan4 qian2 de5)
5. supergroup n.
超級天團 (chao1 ji2 tian1 tuan2)
Comments will be moderated. Keep comments relevant to the article. Remarks containing abusive and obscene language, personal attacks of any kind or promotion will be removed and the user banned. Final decision will be at the discretion of the Taipei Times.