Ramadan 齋戒月
Sufi whirling is a form of physically active meditation originating in Turkey and founded in the 13th century by the Sufi mystic Mevlana Jalaluddin Rumi.
Whirling dervishes perform a dance called the sema, in which they strive to reach kemal, the source of all perfection, by spinning one's body in repetitive circles, focusing on God and abandoning the ego or personal desires.
The clothing used in the sema ritual is symbolic. The dervish's camel's hair hat represents the tombstone of the ego; the wide skirt, weighted at the ends, represents the ego's shroud.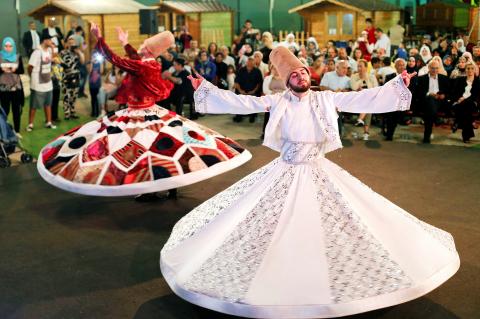 Lebanese whirling dervishes perform in a celebration during the Muslim holy month of Ramadan in the capital Beirut's Verdun street on June 9. 黎巴嫩舞僧於穆斯林齋戒聖月慶典表演旋轉舞,六月九日攝於黎巴嫩首都貝魯特的維頓街。
Photo: AFP
照片:法新社
At the beginning of the ritual, the dervishes hold their arms out, representing the number 1, testifying to God's unity. During the whirling, the right arm is directed to the sky, ready to receive God's beneficence, while the left hand points toward the earth.
Muslims around the world celebrate the holy month of Ramadan, the ninth month in the Islamic calendar, during which devotees pray during the night and fast from dawn till dusk, abstaining from eating, drinking, smoking and sexual acts.
Each day, before dawn and after sunset, food and drink are served. Certain people are exempted from the requirement to fast, including people who are suffering from an illness or travelling, the elderly and women who are pregnant, breastfeeding or menstruating.
An Indian Muslim applies kohl before Friday prayers at a Mosque during the holy Islamic month of Ramadan in Hyderabad, India on June 9. 一名印度穆斯林在臉上塗抹化妝墨,以準備清真寺齋戒聖月週五祈禱,六月九日攝於印度海德拉巴。
Photo: AP
照片:美聯社
Ramadan is also a month where Muslims try to practice increased self-discipline.
This year, Ramadan began on the evening of May 27 and ends on June 24.
(Paul Cooper, Taipei Times)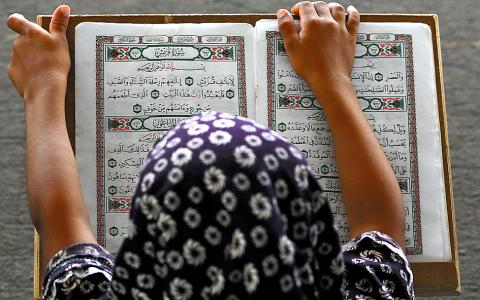 A Palestinian Muslim girl reads the holy Koran at Othman Ibn Afan mosque during the holy month of Ramadan in Khan Younis town in the southern Gaza Strip on June 12. 一名巴勒斯坦穆斯林女孩在齋戒聖月閱讀可蘭經,六月十二日攝於南加薩走廊漢優尼斯鎮歐斯曼‧賓‧阿凡清真寺。
Photo: EPA
照片:歐新社
蘇菲旋轉舞是源於土耳其的一種舞動身體的靈修方式,由伊斯蘭教蘇菲教派神秘主義者梅夫拉那‧賈拉盧丁‧魯米於十三世紀創始。
旋轉舞僧們表演一種稱為sema的舞蹈,以期達到kemal,即所有完美之源頭。舞僧們藉由不斷旋轉,得以專注於神,並拋棄自我及個人欲望。
在sema儀式中所穿的衣服具有象徵意義。舞僧戴的駱駝毛帽代表了自我的墓碑;寬裙的裙襬加重,代表了自我的裹屍布。
儀式開始時,舞僧伸出手臂,象徵數字一,代表與真主合而為一。在旋轉過程中,右手心朝向天空,以接受真主的恩澤,而左手則朝向地面。
世界各地的穆斯林皆慶祝齋戒月,這是伊斯蘭日曆的第九個月,在此期間,信徒在夜間禱告,並在黎明至黃昏之間進行齋戒,在齋戒期間不可吃飯、喝水、吸煙和進行性行為。
每天黎明前和日落後可進食及飲料。有些人可以不必齋戒,包括患病或旅行的人、老人,以及懷孕、哺乳或值經期的婦女。
齋戒月也是穆斯林嘗試提高自律的一個月份。今年的齋戒月於五月二十七日晚上開始,而在六月二十四日結束。
(台北時報編譯林俐凱譯)
Comments will be moderated. Keep comments relevant to the article. Remarks containing abusive and obscene language, personal attacks of any kind or promotion will be removed and the user banned. Final decision will be at the discretion of the Taipei Times.