EU hands Apple 13 billion euro tax bill 歐盟判蘋果補鉅額稅金 臉書谷歌剉著等
On Aug. 30, the European Union (EU) announced that the Irish Government's tax benefits are illegal subsidies and technology giant Apple Inc must pay an additional 13 billion euros (US$14.5 billion) in taxes. Other technology behemoths, such as Facebook and Google, fear they may be next in the firing line to pay additional taxes.
As a way of enticing foreign companies to invest in Ireland, its government has for a long time provided companies with a favorable rate of corporation tax. However, other European countries have been unable to compete on a level playing field. The US government is also unhappy with the situation, since it cannot collect taxes on the profits of US companies made overseas.
According to the investigation carried out by the European Commission, Apple paid between 0.005 and 1 percent tax on the profits it made in European markets. Not only that, nearly two-thirds of the profits Apple made in other markets around the world pass through subsidiaries registered for tax purposes in Ireland.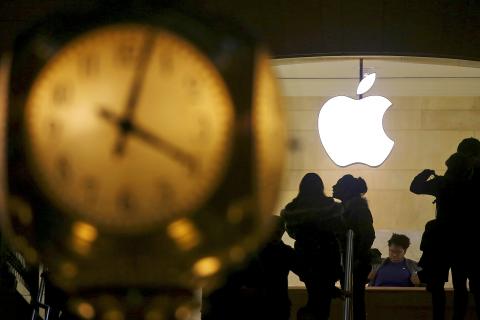 The Apple logo is pictured behind the clock at Grand Central Terminal in New York in an undated photo. 蘋果公司標誌,位於紐約大中央車站的時鐘後面,照片日期不明。
Photo: Reuters
照片:路透社
Both the Irish government and Apple have already stated they intend to appeal the EU's decision. How this case plays out will be crucial in determining whether America's large corporations will decide to pull out of Ireland in the future, and will have a far-reaching impact on corporations with subsidiaries based in Europe.
(CNA, translated by Edward Jones)
歐洲聯盟八月三十日宣布,愛爾蘭政府的稅務優惠措施被裁定是違法補助,科技巨擘蘋果公司必須補繳一百三十億歐元,其它如臉書、谷歌等科技大咖恐成下個被追補繳稅的目標。
愛爾蘭為吸引外商前往投資,長期提供優惠企業稅,不僅令歐洲其它國家無法競爭,美國政府也不滿課不到這些美國企業在海外的獲利稅金。
根據歐盟執行委員會的調查,蘋果公司在歐洲市場獲利所付的稅率在百分之0.005到百分之一之間。不僅如此,蘋果公司將全球其它市場近三分之二的獲利都透過在愛爾蘭登記的子公司報稅。
對於歐盟的這項裁定,愛爾蘭政府與蘋果公司已表明將會上訴,本案後續的發展攸關未來美國大型企業是否會出走愛爾蘭,對在歐洲設立分公司的企業影響深遠。
(中央社)
Publication Notes
TODAY'S WORDS
今日單字
1. tax benefit n. phr.
稅務優惠措施
(shui4 wu4 you1 hui4 cuo4 shi1)
2. illegal subsidy n. phr.
違法補助
(wei2 fa3 bu3 zhu4)
3. corporation tax n. phr.
企業稅
(qi4 ye4 shui4)
4. subsidiary n.
子公司
(zi3 gong1 si1)
Comments will be moderated. Keep comments relevant to the article. Remarks containing abusive and obscene language, personal attacks of any kind or promotion will be removed and the user banned. Final decision will be at the discretion of the Taipei Times.