BIGBANG's fan meeting for this afternoon canceled after parents' protest BIGBANG下午場見面會 因家長抗議取消
Korean pop group BIGBANG is holding four fan meetings, titled 2016 MADE [V.I.P] TOUR, in Taiwan between Sept. 9 and 11, generating much excitement among fans again. Originally, one of the parties at the Linkou Stadium was scheduled for this afternoon. But many people need to go to work or school today to make up for the extra day off next week for the long holiday weekend of Mid-Autumn Festival.
Since the schedule was announced, the organizer IMEtw had received numerous calls from parents who were concerned about the time. They complained that their children decided to ask for a leave or even skip classes, demanding that the organizer cancel the afternoon party, so young students would not sacrifice their school work for "star chasing." Under much pressure of public opinion, the organizer decided to cancel the afternoon party eventually.
According to information on Billboard's Web site, BIGBANG is the K-Pop group holding most live shows in recent years, topping the list with over 100 concerts. Earlier in July, YG Entertainment, the agency of the group, announced a series of activities marking the 10th anniversary of the group's formation.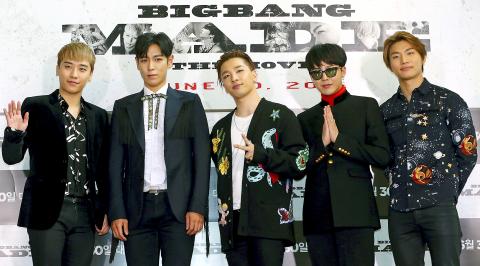 Seungri, T.O.P, Taeyang, G-Dragon and Daesung, left to right, of BIGBANG pose at the premier of the film "BIGBANG MADE" in Seoul, South Korea on June 28. BIGBANG成員勝利、T.O.P、太陽、G-Dragon、大聲(左至右)於六月二十八日,在南韓首爾舉行的「BIGBANG MADE」電影首映會擺姿勢。
Photo: EPA
照片:歐新社
(CNA, translated by Eddy Chang)
韓國流行天團BIGBANG九月九日至十一日,來台舉辦四場二○一六MADE [V.I.P] TOUR粉絲見面會,再度引起粉絲不小騷動。不過,其中一場原定今日下午於林口體育館舉行的見面會,適逢下星期中秋節連假補班、補課日,有許多人仍要上班、上課。
自公布開演時間以來,主辦單位IMEtw就接到許多家長的關切電話,抱怨孩子為此決定請假或翹課。家長紛紛要求主辦單位取消下午場,不要讓青年學子為了「追星」而犧牲學業。主辦單位承受不少輿論壓力,最終決定取消下午場。
根據美國告示牌網站發佈的消息,BIGBANG成為近年來舉辦公演次數最多的K-Pop團體。共舉行了一百多次公演,位居榜首。經紀公司YG娛樂七月則公布了該團出道十週年紀念的系列活動。
(中央社)
Publication Notes
TODAY'S WORDS
今日單字
1. make up ph.
補足
(bu3 zu2)
2. organizer n.
主辦單位
(zhu3 ban4 dan1 wei4)
3. sacrifice v.
犧牲
(xi1 sheng1)
4. agency n.
經紀公司
(jing1 ji4 gong1 si1)
5. anniversary n.
週年
(zhou1 nian2)
Comments will be moderated. Keep comments relevant to the article. Remarks containing abusive and obscene language, personal attacks of any kind or promotion will be removed and the user banned. Final decision will be at the discretion of the Taipei Times.