Painting Jade Mountain 刻畫玉山
At a height of 3,952 meters, Jade Mountain is the highest mountain in Taiwan. It lies between Nantou County, Chiayi County and Kaohsiung City. The Tsou Aboriginal People call it "Pattonkuan" and, in the Japanese colonial era, it was called "Niitakayama" (New High Mountain) as it was taller even than Mountain Fuji in Japan itself.
Tsai Chien-an, of the Chiayi County Fire Department, made his first attempt to climb it 14 years ago. That time, he lost his way in the dark. At morning light the next morning he discovered that he had stumbled into a dangerous gravel slope. One careless move and he might find himself at the bottom of the gorge. Petrified by the experience, he swore never again.
That didn't last long, however. To try to understand more about Jade Mountain and to improve his mountaineering skills, he plucked up the courage to go back, climbing to the summit six times in total. He only had good weather twice, but these did afford him wonderful high-elevation views of the mountains below. "Jade Mountain is majestic and mysterious; to get a good view, however, you do need a bit of luck," said Tsai.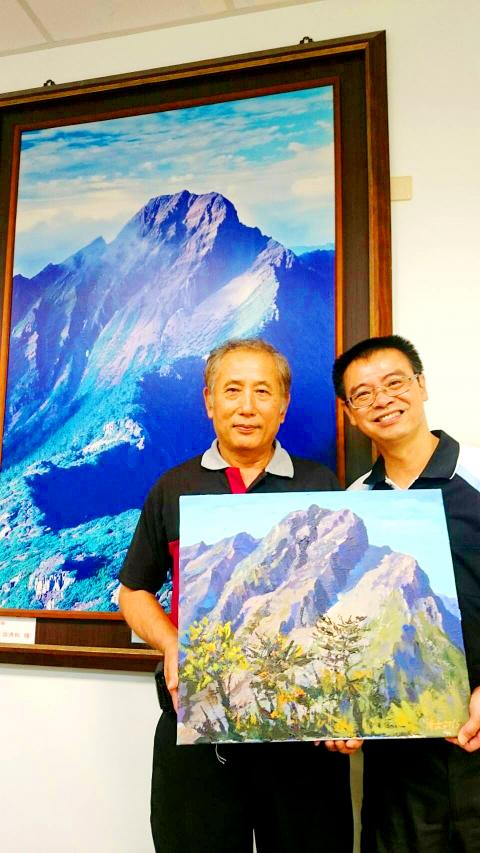 Tsai Chien-an, right, and painter Yu Ching-wen display Yu's painting of Jade Mountain based on Tsai's photo, on July 19 in Chiayi County. 蔡建安(右)與畫家游清文七月十九日在嘉義縣展示游清文根據蔡建安所攝的玉山相片而繪製的畫作。
Photo: Yu Hsueh-lan, Liberty Times
照片:自由時報余雪蘭
Yu Ching-wen, a painter and also a volunteer fireman, painted Jade Mountain from photos Tsai had taken. He said, "Sometimes photos cannot fully capture the scene as we saw it, but sometimes this can be brought out in paint, to show something of the splendor of Jade Mountain."
(Translated by Ethan Zhan)
玉山海拔三九五二公尺,是台灣第一高峰,位於南投縣、嘉義縣、高雄市交界處。鄒族原住民稱之為「八通關」;由於玉山比日本本土的富士山還高,因此日治時期玉山稱為新高山。
嘉義縣消防局第三大隊大隊長蔡建安十四年前第一次攀爬玉山,當時他摸黑走錯路,天亮後才發現走錯的路竟是危機重重的碎石坡,一不小心就可能滑落深不見底的山谷。他嚇得發誓「再也不來了」。
話雖如此,為更了解玉山的環境並磨練體力與技巧,蔡建安還是硬著頭皮拿出毅力,累計登上玉山頂六次。不過,六次裡面僅有兩次幸運遇到好天氣,得以俯瞰腳下群山環抱的壯闊美景。他說:「玉山雄偉又神秘,但要看到大景要有點運氣。」
是畫家也是義消的游清文利用蔡建安提供的照片描繪玉山。他說:「照片有時無法呈現事物的真切樣貌或感受,但透過畫筆,得以把玉山的雄偉表現出來。」
〔記者余雪蘭/中埔報導〕
Publication Notes
FOLLOW UP
讀後練習
1) Have you ever vowed never to do something again, but then do it, and be taken by surprise at the experience?
1) 你是否曾經發誓再也不做某件事,但後來還是做了那件事,而發現新的經驗與先前的經驗大不相同?
2) Have you ever decided that something was too difficult for you to do or learn, such as swimming or math, but managed to do it or learn it in the end?
2) 你是否曾經覺得做某件事或學習某件事對你來說根本太難而不可能辦到,例如游泳或數學,但最後仍然學會了或辦到了?
Comments will be moderated. Keep comments relevant to the article. Remarks containing abusive and obscene language, personal attacks of any kind or promotion will be removed and the user banned. Final decision will be at the discretion of the Taipei Times.