A near drowning experience 綠島落海記
A female tourist surnamed Hung from Taichung, aged 32, took a passenger boat on May 29 to visit Green Island. When the ship arrived at Green Island's Nanliao Harbor, it happened to be high tide and the boat was rocking up and down violently. When Hung was disembarking, she was caught off balance and lost her footing despite assistance from the boat crew, and fell into the sea. In a panic, she also dragged Masri, an Indonesian crew member, in the water along with her.
Seeing them fall into the water, Nanliao Inspection Office staff, who at the time were counting the tourists, made an attempt to pull them up with their bare hands, but because the side of the boat was too high, they abandoned the attempt and called on their colleagues instead to bring out lifebuoys to rescue them.
Luckily, Masri was a good swimmer. He managed to pull Hung toward land while preventing her from getting squeezed between the boat and the pier. After a moment of panic and chaos, they were finally pulled up on the pier. Hung only suffered a fright but did not sustain any physical injuries. After the rescue, her friend helped her to the hotel so that she could rest and put an end to this terrifying incident.(Liberty Times, translated by Ethan Zhan)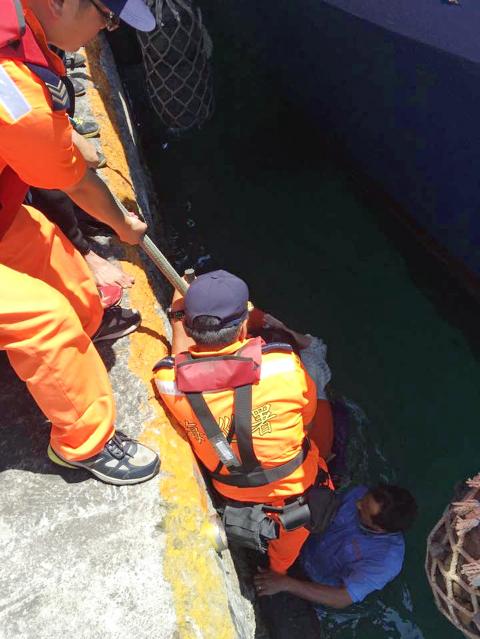 Coast Guard officers, left, and Indonesian crew member Masri, in blue shirt, try to rescue a female tourist surnamed Hung and help her onto the pier at Green Island on May 29. 海巡人員(左)及印尼船工馬斯利(身著藍衣者)試圖將洪姓女遊客救上岸。攝於五月二十九日,綠島。
Photocopied by Chen Hsien-yi, Liberty Times
照片:自由時報陳賢義翻攝
台中一名三十二歲洪姓女遊客五月二十九日搭乘客輪前往綠島遊玩,抵達綠島南寮漁港時,巧遇漲潮,造成船身強烈晃動,雖有船員在旁協助,洪女下船時仍因重心不穩失足落海,慌亂中還將一名印尼船工馬斯利一起拉下海。
正在實施人數清點的南寮安檢所人員赫見有人落水,一度嘗試徒手拖拉援救,但因船舷過高而作罷,另叫喚同仁取起出救生圈救援。
所幸馬斯利水性佳,努力將洪女推往港岸,並避免洪女被客輪及港岸夾擠。一陣手忙腳亂後,兩人才終於被救上岸。洪女僅受驚嚇,但沒有受傷,上岸後由友人攙扶回旅館休息,結束這場驚魂記。
(自由時報陳賢義)
Publication Notes
TODAY'S WORDS
今日單字
1. passenger boat n.
客輪 (ke4 lun2)
例: Jennifer met her Prince Charming on a passenger boat to Taitung.
珍妮佛在一艘前往台東的客輪上遇見她的白馬王子。)
2. boat crew n. phr.
船員 (chuan2 yuan2)
例: Her ex-boyfriend is that short bulky member of he boat crew.
(她的前男友是矮矮壯壯的那個船員。)
3. lifebuoy n.
救生圈 (jiu4 sheng1 quan1)
例: Even with a lifebuoy, Jack would still have frozen to death.
(即使有救生圈,傑克還是會凍死。)
Comments will be moderated. Keep comments relevant to the article. Remarks containing abusive and obscene language, personal attacks of any kind or promotion will be removed and the user banned. Final decision will be at the discretion of the Taipei Times.