Lobster catch stolen next to coast guard station 捕獲龍蝦被偷 就在岸巡哨所旁
On the east coast of Pingtung County's Hengchun Peninsula, it is now the peak season for lobsters, and many fishermen leave their lobsters in pots suspended in the harbor water. However, recently a "lobster thief" has been sneaking into the pier and stealing whole lobster pots along with the catch. This caught all the fishermen by surprize. Since there is a coast guard patrol station next to the wharf, fishermen fumed: "How can things get stolen where the patrol station is right there? Were the coast guards all dozing?" Many hope the police will arrest the thief who exclusively targets fishermen's lobsters.
The two most recent cases of stolen lobsters took place in Bitou Harbor and Singhai Harbor, which is near the east coast of Kenting. In both cases, the fishermen had left the lobsters in pots suspended in the harbor water to be picked up later, but an unidentified person came to the harbor in a car and snatched all the lobster pots, worth at least NT$10,000.
The Coast Guard's 63rd Division explained that surveillance cameras have been installed at every pier, and that during late night hours they record the license plate of every car which visits or leaves the wharf. When the lobsters were stolen, the coast guard happened to be patrolling another nearby area, and therefore did not discover it in time, the division said.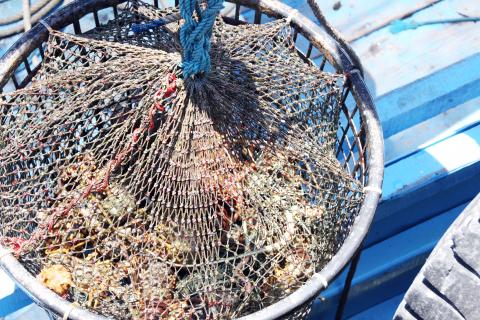 Lobsters caught by Pingtung fishermen on April 24 are pictured in Pingtung County.
Photo: Tsai Tsung-hsien, Liberty Times
屏東縣漁民於四月二十四日捕獲的龍蝦。照片:自由時報記者蔡宗憲
(Liberty Times, translated by Yu-an Tu)
屏東縣恆春半島東岸正值龍蝦盛產季節,不少漁民將捕獲的龍蝦關在籠中懸掛在漁港內,沒想到最近出現「龍蝦賊」,利用深夜潛入碼頭偷走整籠龍蝦。由於碼頭旁有岸巡隊哨所,漁民大罵「哨所旁還被偷,都在睡覺嗎?」希望警方協助緝捕專門撿現成的「龍蝦賊」。
最近兩起龍蝦遭竊案件,分別發生在鼻頭港碼頭及接近墾丁東岸的興海港碼頭,同樣都是漁民將捕獲的龍蝦暫時用網具吊掛在港內,卻在凌晨被不明人士開車到港邊整籠帶走,損失都在萬元以上。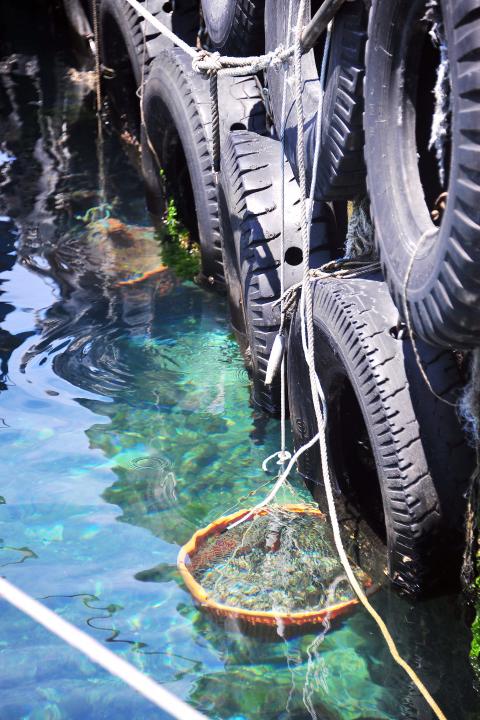 Pingtung fishermen suspend their catch in the harbor water in Pingtung County on April 24.
Photo: Tsai Tsung-hsien, Liberty Times
照片:自由時報記者蔡宗憲
岸巡六三大隊澄清,碼頭內都有監視錄影,深夜進出車輛都會登錄車牌,事發時因執勤人員在附近巡邏,沒能及時發現。(自由時報記者蔡宗憲)
Publication Notes
TODAY'S WORDS
今日單字
1. fume v.
大罵;憤怒地說 (da4 ma4; fen4 nu4 de5 shuo1)
例: The mayor fumed that the election was rigged.
(市長憤怒地說選舉受到操縱。)
2. exclusively adv.
專門 (zhuan1 men2)
例: This class is exclusively for children.
(這門課是專門開給小孩子的。)
3. snatch v.
帶走;奪走 (dai4 zou3; duo2 zou3)
例: He snatched the gift from my hand and left.
(他把禮物從我手中奪走,然後就離開了。)
Comments will be moderated. Keep comments relevant to the article. Remarks containing abusive and obscene language, personal attacks of any kind or promotion will be removed and the user banned. Final decision will be at the discretion of the Taipei Times.