Young Taiwanese filmmakers head to Japan 嘉商微電影「遇見」 將赴日參展
National Chiayi Senior Commercial Vocational School third-year students Liu Chuan-yu, Chien Ling-yen and Chang Yung-chi borrowed their school's DSLR camera to make their first ever production, Encounter. They have now been chosen as one of three groups to represent Taiwan, and on Nov. 23 they will travel to Japan to take part in the International Asian Youth Film Exhibition where they will go head to head with groups representing 16 other countries.
The theme of the exhibition is "The moment I feel happy" and the rules state that participants must shoot a three-minute film using only home-use film equipment; subtitles and voice-overs are not allowed.
Liu, who operated the camera, said they took approximately one month to shoot the film. According to Liu, inspiration for the film came from Chang — one of the group members — who doesn't know how to ride a bicycle. The film's story describes a female student who has little interaction with her classmates. She manages to overcome her fear of failure, tries once more to learn how to ride a bicycle and revives the friendship with her classmates.
(Liberty Times, Translated by Edward Jones)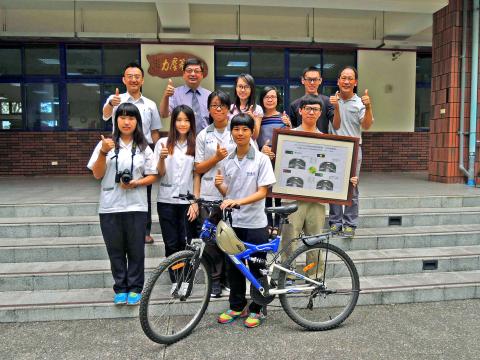 Students from National Chiayi Senior Commercial Vocational School pose for a group photo with their teachers in Chiayi County on Nov. 2. 嘉義高商綜合高中拍影片的學生們,十一月二日與老師們在嘉義縣合照。
Photo: Wang Shan-yan, Liberty Times
照片:自由時報記者王善嬿
嘉義高商綜合高中三年級生劉傳鈺、簡鈴燕及張詠棋學拍影片,借用學校的單眼相機製作首部作品「遇見」,獲選為台灣三組代表隊之一,十一月二十三日渡海參加在日本舉行的「亞洲國際兒童電影展」,將與十六國代表隊一較高下。
「亞洲國際兒童電影展」,影片主題「我感覺幸福的時刻」,規定須使用家用攝影機拍攝三分鐘內影片,不可有字幕、旁白。
掌鏡的劉傳鈺說,拍片花了約一個月,靈感來自成員之一的張詠棋不會騎腳踏車,劇情描述一名女學生原本跟同學互動冷漠,但克服曾失敗的困難,再一次學騎車,重拾與同窗之友誼。
(自由時報記者王善嬿)
Publication Notes
TODAY'S WORDS
今日單字
1. go head to head v. phr
一較高下 (yi1 jiao4 gao1 xia4)
例: The two teams will go head to head in the final match.
(兩隊將在決賽一較高下。)
2. inspiration n.
靈感 (ling2 gan3)
例: Many Chinese painters' inspiration comes from nature.
(很多中國畫家的靈感來自於大自然。)
3. interaction n.
互動 (hu4 dong4)
例: Aside from my South Korean colleagues, I have very little interaction with foreigners.
(除了我的韓國同事們以外,我跟外國人的互動很少。)
Comments will be moderated. Keep comments relevant to the article. Remarks containing abusive and obscene language, personal attacks of any kind or promotion will be removed and the user banned. Final decision will be at the discretion of the Taipei Times.