Busking for the homeless 為無家可歸者而唱
Hsu Ta-hang, a marketing officer at the Renan Social Welfare Foundation's head office in Taipei's Shilin District, feels that fundraising has been pretty difficult in recent years, so for two years running he has ridden his scooter around Taiwan, busking by singing and playing guitar along the way and urging the public to donate money for the homeless. Wang I-wen, a female university student who agrees with Hsu's idea, also joined him on the tour. This was her first time to be away from Taipei on a scooter and take the challenge of singing on the streets, but she says it has been totally worth it.
Hsu and Wang were also accompanied by two salarymen, Wang A-fan and Tai Chun-ying. The four zealous youths set off on their journey from Sanchong on Oct. 10 with a box for people to donate receipts, along with sleeping bags and a guitar. They sang their way counterclockwise around the island by riding scooters and arrived at Keelung on the morning of Oct. 16. Chou Chih-hsiung, a volunteer at the foundation's Keelung branch, also joined the group, whose efforts have captured the public's attention.
Hsu says that they want to raise money in advance to fund a year-end party so that homeless people can spend the Lunar New Year with peace of mind. In total, they have raised more than NT$39,000.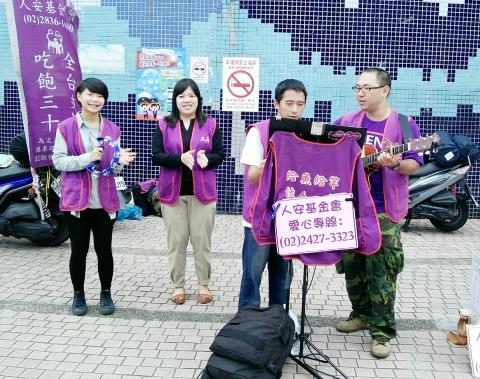 Wang I-wen, first left, Hsu Ta-hang, first right, and two companions give a musical performance in Keelung's bus station on Oct. 16. to raise money for the homeless 王怡文(左一)、許大行(右一)及兩名同伴十月十六日在基隆公車站為街友募款而唱。
Photo: Lin Hsin-han, Liberty Times
照片:自由時報記者林欣漢
Wang, who is 21 years old, says she has never left Taipei on a scooter until now. She joined the round-island tour because she believes in the foundation's ideals. In Taoyuan, she met a mother and son who sell white champaca flowers for a living, and she was very moved to see how they make ends meet by working hard with their hands. When she was in Kenting, a man took out NT$1,000 and donated it without the slightest hesitation, which made her feel that the journey was totally worthwhile.
(Liberty Times, translated by Ethan Zhan)
人安基金會台北士林總會行銷企劃許大行,有感於近年募款不易,連續兩年展開機車環島以吉他走唱,呼籲社會大眾捐款幫助街友。認同許大行理念的女大生王怡文也參與同行,首次騎車離開台北、挑戰在街頭唱歌,直呼很值得。
與許大行、王怡文同行的還有上班族王阿凡、戴君穎。四名熱血青年十月五日從三重出發,載著發票箱、睡袋和吉他,逆時針機車環島走唱,十月十六日上午抵達基隆。在人安基隆站擔任志工周志雄也加入一起演唱,吸引民眾目光。
許大行說,他們希望提早募集尾牙經費,讓街友放心過節,共募得三萬九千餘元。
二十一歲的王怡文說,這輩子騎車不曾離開過台北,因為認同人安理念加入環島行列。她曾在桃園遇到一對賣玉蘭花維生的母子,她們靠雙手為生活努力,讓她非常感動;在墾丁還有男子不假思索掏出千元大鈔響應,「讓我覺得這趟旅程很值得。」
(自由時報記者林欣漢)
Publication Notes
TODAY'S WORDS
今日單字
1. fundraising n.
募款 (mu4 kuan3)
例: Do you have any good ideas for fundraising for the orphans?
(你有為孤兒募款的好主意嗎?)
2. zealous adj.
熱血 (re4 xie3)
例: He is a very zealous member of the team.
(他是團隊裡非常熱血的成員。)
3. without the slightest hesitation phr.
不假思索 (bu4 jia3 si1 suo3)
例: Mary offered to help without the slightest hesitation.
(瑪麗不假思索地表示願意幫忙。)
Comments will be moderated. Keep comments relevant to the article. Remarks containing abusive and obscene language, personal attacks of any kind or promotion will be removed and the user banned. Final decision will be at the discretion of the Taipei Times.