German measles hits Taiwan 今年首例!男染德國麻疹 接觸者達一百廿一人
This year's first case of German measles has been confirmed. The Ministry of Health and Welfare's Centers for Disease Control today announced the infected person is a 41 year-old man from northern Taiwan, who had come into contact with 121 individuals. The man has already been released from isolation.
The CDC said the man went to a clinic for treatment on Jan. 16 due to the appearance of a fever and cough among other symptoms. On Jan. 22 the man was sent to a medical center for treatment in isolation and was diagnosed with German measles. He has now been released from isolation. In this case there is no history of foreign travel during the exposure period, therefore it is judged to have been a case of domestic infection. The probable origin of the infection is still under investigation.
The CDC issued a reminder that German measles is infectious for a period of seven days both before and after the appearance of symptoms. The disease can be caught through physical contact with a patient or sprayed particles. However, vaccination is effective in preventing the disease. Members of the public who experience symptoms of fever, tiredness, head cold, acute swelling of the lymph node behind the ear, accompanied by non-uniform pimples or swelling over the entire body, should seek immediate treatment.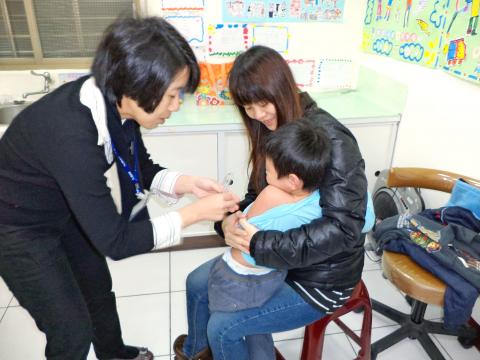 German measles can be prevented through an MMR vaccination. Almost 99 percent of susceptible people can produce an antibody response following preventative inoculation. Picture for illustrative purposes only. 德國麻疹可透過接種MMR疫苗有效預防,近九成九的易感性宿主可經由預防接種產生明顯的抗體反應。
Photo: Wang Ying-chieh, Liberty Times
示意圖,與本文無關。(資料照,記者王英傑翻攝)
(Liberty Times, translated by Edward Jones)
今年首例德國麻疹確定病例!衛生部疾管署今天公布感染者為北部41歲男性,他曾接觸過一百二十一人,該患者也已解除隔離。
疾管署指出,這名男子一月十六日因出現發燒及咳嗽等症狀至診所就醫,二十二日送往醫學中心隔離就診,確診感染德國麻疹,目前已解除隔離。個案於暴露期間無國外旅遊史,研判為國內感染病例,可能感染來源仍在調查中。
疾管署提醒,德國麻疹在出疹前後七天都具有傳染力,可經由飛沫或與病人直接接觸而傳染,但可透過疫苗接種有效預防。民眾若有發燒、疲倦、鼻咽炎、耳後淋巴結明顯腫大,及伴隨全身性不規則丘疹等症狀,應儘速就醫。
(自由時報)
Publication Notes
TODAY'S WORDS
今日單字
1. under investigation phr.
調查中 (diao4 cha2 zhong1)
例:The exact cause of the gas explosion is still under investigation by the authorities.
(瓦斯氣爆的確切原因目前仍由相關單位調查中。)
2. history n.
史, 歷史 (shi3, li4 shi3)
例:The defendant does not have a history of violent behavior.
(被告的歷史記錄中並沒有暴力行為。)
3. exposure n.
暴露 (bao4 lu4)
例:Excessive exposure to the sun's radiation can cause skin cancer.
(過度暴露在太陽輻射下會導致皮膚癌。)
Comments will be moderated. Keep comments relevant to the article. Remarks containing abusive and obscene language, personal attacks of any kind or promotion will be removed and the user banned. Final decision will be at the discretion of the Taipei Times.