Prostitution legislation outlaws purchase of sex, targets pimps: MacKay 麥凱:嫖娼賣淫法禁止買春,打擊皮條客
New legislation would criminalize the purchase of sexual services, crack down on those who benefit from prostitution and outlaw the sale of sex near schools and other places where children gather.
Justice Minister Peter MacKay says the "made-in-Canada" model targets johns and pimps while protecting the vulnerable.
The new prostitution-related offences are intended to reduce demand for sexual services, shield those who sell themselves from exploitation, and safeguard children and communities.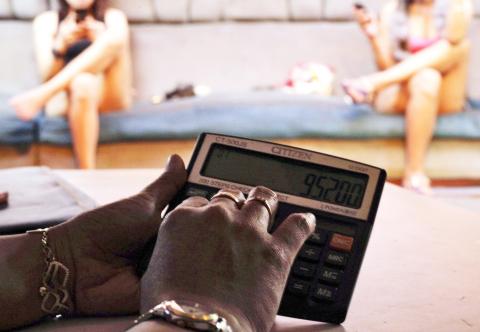 A woman uses a calculator as sex workers wait for customers at a brothel in Surabaya, Indonesia on March 24. 一位女士三月二十四日在印尼泗水一家妓院用計算機,對面的性工作者同時等待嫖客。
Photo: Reuters
照片:路透社
The legislation is the government's response to a Supreme Court of Canada decision in December last year that struck down key provisions of the country's prostitution laws.
The court was concerned the provisions unduly increased the risk to sex workers, violating their constitutional rights.
While the court ruled the laws were unconstitutional, it gave the government a year to replace them.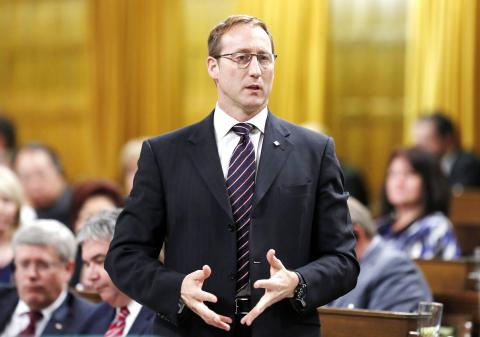 Canadian Justice Minister Peter MacKay speaks in the House of Commons in Ottawa on May 27. 加拿大司法部長彼得‧麥凱五月二十七日在渥太華國會下議院講話。
Photo: Reuters
照片:路透社
"It is important to note that the purchase and sale of sex has never been illegal in Canada. That changes today," MacKay said.
"We are targeting johns and pimps, those that treat sex services as a commodity.
(Liberty Times)
新法將使買春有罪,打擊那些從賣淫獲利者,並且禁止在學校或其他兒童聚集地點附近賣春。
司法部長麥凱說,這套「加拿大製造」模式的打擊目標是嫖客和皮條客,同時保護弱勢。
這些新制定的買春賣淫相關犯罪行為旨在減少對性服務的需求,避免那些出賣肉體的人受到剝削,並保護兒童和社區。
這項立法是政府回應加拿大最高法院去年十二月的一項判決,該判決撤銷該國賣淫嫖娼法律的若干關鍵條文。
最高法院擔心這些法條過度增加性工作者的風險,違反他們的憲法權利。
法院判決這些法律違憲,給予政府一年時間制定新法取代。
「重要的是,買賣性服務在加拿大未曾是違法行為,這一點在今天改變了」,麥凱說。
「我們的打擊對象是把性服務當商品的嫖客和皮條客。」
(自由時報/翻譯:管淑平)
Publication Notes
TODAY'S WORDS
今日單字
1. outlaw v.
取締;宣告為非法行為 (qu3 di4; xuan1 gao4 wei2 fei1 fa3 xing2 wei2)
例: The court outlawed smoking in public places.
(法院將宣布公共場所抽菸違法。)
2. unconstitutional adj.
違反憲法的 (wei2 fan3 xian4 fa3 de5)
例: The Council of Grand Justices yesterday ruled that parts of the Urban Renewal Act were unconstitutional.
(大法官會議昨天裁決都更條例部分條文違憲。)
3. john n.
買春客;嫖客 (mai3 chun1 ke4; piao2 ke4)
例: All these johns and pimps are part of a prostitution ring.
(這群嫖客和皮條客全都是一個賣淫集團的成員。)
Comments will be moderated. Keep comments relevant to the article. Remarks containing abusive and obscene language, personal attacks of any kind or promotion will be removed and the user banned. Final decision will be at the discretion of the Taipei Times.