Party to adultery gets off easy after dozens of encounters 偷吃人妻三十次判七次 小王囚七月
Sleeping with someone else's spouse several times means you are party to adultery. A fine must be paid for each individual criminal act, which means the number of times that act is committed makes a difference.
A man surnamed Luo in Miaoli County was caught sleeping with the wife of a friend he regularly played cards with surnamed Chan. After a lawsuit was filed against Luo, Chan's wife admitted having sex with Luo 30 times. The judge said that the exact time and location could only be established for seven of those encounters. Luo was sentenced to three months in jail for each sexual encounter, which was eventually commuted to seven months or a fine of NT$1,000 per day. Luo managed to get off easy and evaded criminal charges for the other 23 alleged sexual encounters.
According to the judge's investigation, Luo became acquainted with Chan's wife in February last year using the messaging platform WeChat — known as weixin, or micro-message in Chinese. He was aware that she was the wife of his card-playing buddy Chan. Two months later the two struck up an extramarital affair. They eventually copulated at motels in Greater Taichung's Fongyuan District and hotels and guesthouses in Hsinchu City.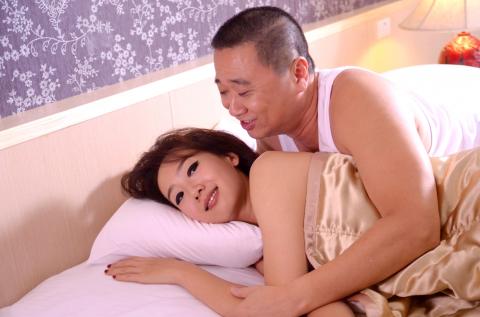 Actors Jo'elle Lu, left, and Tai Chih-yuan perform a lovemaking scene in the TV show Once Upon A Time in Beitou. 演員陸明君與邰智源拍攝電視劇《熱海戀歌》的床戲。
Photo Courtesy of Sanlih E-Television Inc
照片由三立電視提供
On July 23 last year Chan discovered on WeChat that his wife and Luo were staying in the same room at a guesthouse in Hsinchu City. Chan told the police, who eventually caught them in bed committing adultery. He filed adultery charges against his wife and against Luo as the other party in the adultery. Chan's wife later admitted that she had sex with Luo 30 times. Chan decided to be lenient, forgave his wife and dropped the criminal charges against her. The public prosecutor decided not to prosecute Chan's wife either, while Luo was charged as an adultery suspect.
Luo initially claimed that he was unaware that she was someone's wife. During the judge's investigation, however, he found that on the afternoon of April 10 last year, after Chan had discovered that his wife was using WeChat to contact Luo, the latter called Chan to tell him that he would never do anything to entice a married woman, so obviously Luo was well aware that they were married. Furthermore, Chan's wife accused Luo of threatening her, saying during police questioning that he would make her break up with her husband, which also shows that he knew she was married to Chan.
(Liberty Times, Translated by Kyle Jeffcoat)
與他人配偶上床幾次,都算相姦,但因一罪一罰,次數的多寡還是有差。
苗栗縣羅姓男子與詹姓牌友的妻子上床被抓姦,吃上官司,詹妻坦承與羅嘿咻過三十次,但法官卻認定僅其中七次有具體時間、地點才算數,各判刑三月,應執行有期徒刑七月,如易科罰金,以一千元折算一日,羅男免掉二十三次的刑責,撿到了便宜。
法官調查,去年二月間,羅男透過微信(WeChat)交友軟體結識詹妻,明知她是詹姓牌友的妻子,兩個月後竟與詹妻發生婚外情,先後在台中豐原的汽車旅館與新竹市的飯店、賓館發生性行為。
去年七月二十三日,詹男透過徵信社發現妻子與羅男在新竹市的賓館同房,報警捉姦在床,控告妻子通姦、羅男相姦。詹妻承認與羅男上床過三十次,詹男坦白從寬,選擇原諒,撤回對她的告訴,獲檢方不起訴,羅男則被依相姦罪嫌起訴。
羅男一度辯稱,不知詹妻是有夫之婦,但法官調查發現,去年四月十日下午,詹男發現妻子用微信跟羅男聯絡後,當時羅男還打電話告訴他不會做出誘拐良家婦女的事,顯然很明確知道他們是夫妻關係。此外,詹妻曾指控羅男恐嚇,羅男在警詢時曾供稱「我也會讓她跟她老公分開」,可見知道詹妻是人家的老婆。
(自由時報記者傅潮標)
Publication Notes
TODAY'S WORDS
今日單字
1. extramarital adj. 婚外的 (hun1 wai4 de5)
例: He had several extramarital affairs with coworkers. (他跟好幾個同事曾有婚外情。)
2. copulate v. 交媾;交配 (jiao1 gou4; jiao1 pei4)
例: Some spiders practice sexual cannibalism. The female attacks and consumes the male before, during or after they copulate. (有些蜘蛛性食同類。雌性蜘蛛在交配前後攻擊及吃完雄性蜘蛛。)
3. threaten v. 恐嚇;威脅 (kong3 he4; wei1 xie2)
例: Terrorists are threatening to detonate a bomb in the building. (恐怖主義者恐嚇明天在大樓內引爆炸彈。)
Comments will be moderated. Keep comments relevant to the article. Remarks containing abusive and obscene language, personal attacks of any kind or promotion will be removed and the user banned. Final decision will be at the discretion of the Taipei Times.