Retired Jinguashih miners uncover historic mine rail 消失二十六年 老礦工找回金瓜石索道
Apparently inspired by the ancient Chinese proverb about an old man moving a mountain, for more than a year a group of elderly miners have been weeding, moving stones and paving roads to uncover an old mine railway, which was buried for the past 26 years in the former gold mining town of Jinguashih in New Taipei City's Ruifang District. The group is urging the government to classify the area as an official historic site or historic building under the Cultural Heritage Preservation Act. The government is currently in the middle of the review process.
Cheng Chun-shan, an old Jinguashih miner, says that Taiwan Metals Mining Co shut down operations in 1987, and the railway fell into disuse, while the mine trolleys were auctioned off for scrap metal and the abandoned tracks were gradually overtaken by weeds and the wilderness.
Starting in October last year, four seniors — Cheng Chun-shan, Chen Shih-cheng, Lin Cheng-hsiung and Chang A-hui — along with dozens of other septuagenarians, commenced their project of "finding the road they once traversed." With sickles and hoes in hand, they have walked the desolate hillside, chopping down weeds taller than themselves and clearing away boulders that fell down the hillside during typhoons. "We don't have any particular agenda. We just want to locate the road again, which is part of Jinguashih residents' collective memory," Cheng says.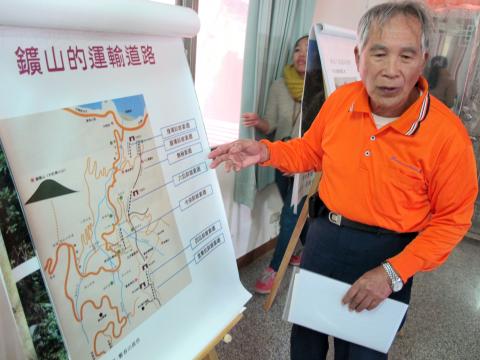 Cheng Chun-shan, a retired miner from Taiwan Metals Mining Co, talks about the abandoned Jinguashih mine railway at a press conference in Keelung on Dec. 8. 退休台金公司老礦工鄭春山十二月八日在基隆記者會上介紹荒蕪的金瓜石索道。
Photo: Yu Chao-fu, Liberty Times
照片:自由時報記者俞肇福
The hard work of the seniors has gradually received recognition from the government. Culture Minister Lung Ying-tai organized a team to survey the area on April 9, the New Taipei City Culture Affairs Department invited experts and academics to survey the area at the end of July, and an evaluation meeting was held on Dec. 6. A decision is expected to be made in the coming days as to whether the Jinguashih mine railway will be protected under the Cultural Heritage Preservation Act.
(Liberty Times, Translated by Kyle Jeffcoat)
金瓜石一群老礦工,用愚公移山的精神,歷經一年多的除草、清石、鋪路,讓消失廿六年的索道重見天日,呼籲官方依據文化資產保存法公告為「古蹟」或「歷史建築」保存,官方也進入審查程序。
金瓜石老礦工鄭春山說,一九八七年台金公司歇業,索道停止使用,台車被當廢鐵拍賣,而索道逐漸被荒煙蔓草覆蓋。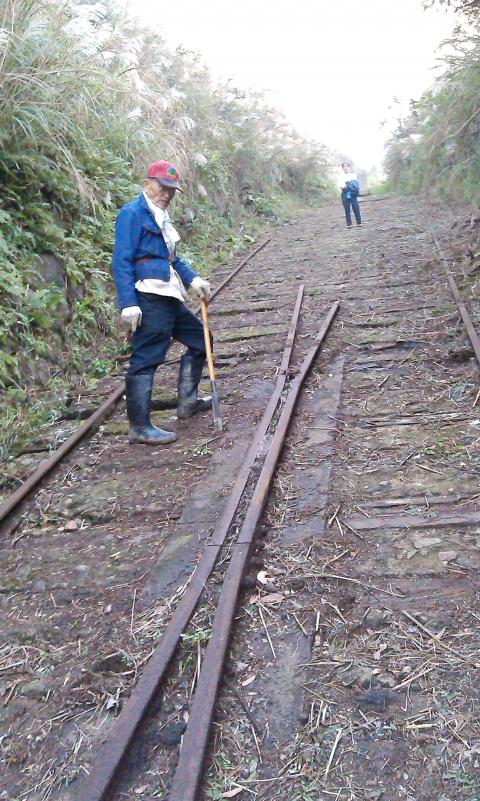 Retired miners clean up an abandoned mine railway in Jinguashih in New Taipei City's Ruifang District in this undated photo. 退休老礦工在新北市瑞芳區金瓜石整理荒蕪的索道。
Photo courtesy of Cheng Chun-shan
照片由鄭春山提供
自去年十月開始,鄭春山、陳石成、林政雄、張阿輝四位及其他數十位平均年齡逾七十歲的老礦工,開始發起「把路走回來」行動,挽袖拿起鐮刀和鋤頭,走在荒煙蔓草的斜坡索道上,沿途割除比人還高的芒草,並整理因為颱風崩塌的土石;鄭春山說:「我們沒有甚麼特別的目的,只是想要找回這條路,找回屬於金瓜石人的記憶。」
老礦工的努力,逐漸被官方看見,今年四月九日,文化部部長龍應台率員探勘,七月下旬,新北市文化局也邀請專家學者實勘,本月六日召開評估會議,預計近日公告金水台車道是否納入文化資產保護範圍。
(自由時報記者李雅雯、俞肇福、賴筱桐)
Publication Notes
TODAY'S WORDS 今日單字
1. auction off v. phr.
拍出 (pai1 chu1)
例: Bod Dylan's electric guitar was auctioned off earlier this month for a record US$965,000.
(巴布‧狄倫電吉他本月上旬破紀錄以九十六萬五千美元拍出。)
2. desolate adj.
荒蕪的 (huang1 wu2 de5)
例: A new prison is being built in one of the most desolate parts of southwestern Portugal.
(葡萄牙西南部最荒蕪地帶之一蓋了一座新監獄。)
3. recognition n.
賞識;表彰 (shang3 shi4; biao3 zhang1)
例: The school gained international recognition for its achievements in mathematics.
(這所學校因數學成就受國際肯定。)
Comments will be moderated. Keep comments relevant to the article. Remarks containing abusive and obscene language, personal attacks of any kind or promotion will be removed and the user banned. Final decision will be at the discretion of the Taipei Times.