Diesel fumes baffle bees 柴油氣味讓蜜蜂困惑
Diesel exhaust fumes alter the flowery smells that guide bees when they forage, potentially sending them off course and putting the food-growing industry at risk, a recent study said.
Honeybees rely heavily on their sense of smell to locate flowers from which they harvest life-giving nectar — transferring pollen grains from one bloom to another in the process.
The new research shows that diesel exhaust fumes from cars, tractors or power generators can chemically alter the smell of flowers and render them undetectable to bees. This, in turn, threatens the insects' crucial role as key pollinators of human food crops.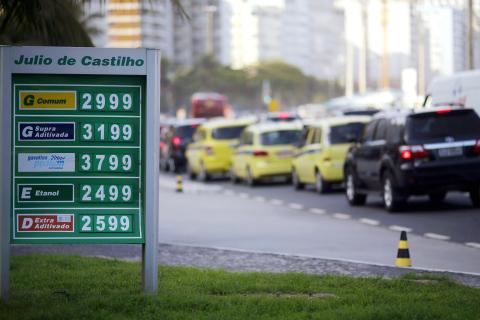 The prices of gasoline, ethanol and diesel fuel are shown at a gas station next to traffic at Copacabana Beach in Rio de Janeiro, Brazil on Nov. 29. 十一月二十九日在巴西里約熱內盧科帕卡巴納海灘附近的車潮前,呈現一座油價告示牌。
Photo: Reuters
照片:路透
"Somewhere in the region of 70 percent of world crops require pollination services, and ... about 35 percent of our current food production is reliant on pollination," said study co-author Tracey Newman of the University of Southampton. Pollination services have an estimated economic value of 153 billion euros (US$207.3 billion) a year.
If the foraging bees are unable to find nectar, the entire hive will suffer from a lack of food — as will the plants that depend on pollination to reproduce.
Bees account for some 80 percent of pollination by insects, but their numbers have slumped in Europe and the US in the past 15-odd years due to a worrying phenomenon dubbed colony collapse disorder.
(Liberty Times)
一項最近研究指出,柴油廢氣會改變蜜蜂覓食時所依循的花香味,可能使牠們偏離常軌,進而導致糧食種植業面臨危機。
蜜蜂大量仰賴其嗅覺來找尋花朵並採集花蜜,在此過程中也把花粉從這朵花帶到另一朵花上。
新研究顯示,來自汽車、牽引機或發電機的柴油廢氣可以改變花朵香味的化學成分,讓蜜蜂無法聞到花香。如此一來,蜜蜂在人類糧食作物生長過程中扮演花粉傳授媒介的重要角色就可能受到威脅。
研究作者之一,南安普頓大學教授紐曼表示:「全球約有七成作物需要授粉服務,而……大約百分之三十五的現有食物生產都必須仰賴授粉。」授粉服務每年的經濟價值估計達一千五百三十億歐元(兩千零七十四億美元)。
假如採集蜂無法找到花蜜,整個蜂巢都會因缺乏食物而受到影響─仰賴蜜蜂傳粉來繁殖的植物也同遭連累。
在所有傳粉昆蟲中,蜜蜂佔了約八成,但過去十五年來,歐洲和美國的蜜蜂數量卻受到一種被稱為「蜂群崩潰症候群」、令人憂心的現象影響而遽減。
(自由時報/翻譯:俞智敏)
Publication Notes
TODAY'S WORDS 今日單字
1. forage v.
搜尋;翻找 (sou1 xun2; fan1 zhao3)
例: The children had been living on the streets, foraging for scraps and sleeping rough.
(這群小孩住在街頭,靠著搜尋殘羹剩飯維生並餐風宿露。)
2. off course phr.
偏離原定路線 (pian1 li2 yuan2 ding4 lu4 xian4)
例: The book is generally well written, but it occasionally veers off course.
(這本書整體而言寫得很好,但偶有離題之處。)
3. pollinator n.
花粉傳授媒介 (hua1 fen3 chuan2 shou4 mei2 jie4)
例: Honeybees are a common pollinator of flowers.
(蜜蜂為花朵常見的授粉媒介。)
Comments will be moderated. Keep comments relevant to the article. Remarks containing abusive and obscene language, personal attacks of any kind or promotion will be removed and the user banned. Final decision will be at the discretion of the Taipei Times.