Shakespeare as ruthless businessman: study 研究:莎士比亞是冷酷商人
New research depicts William Shakespeare as a grain hoarder, moneylender and tax dodger who became a wealthy businessman during a time of famine.
Academics from Aberystwyth University in Wales combed through historical archives to uncover details of the playwright's parallel life as a merchant and property owner whose practices sometimes brought him into conflict with the law.
He was pursued by authorities for tax evasion, and in 1598 he was prosecuted for hoarding grain during a time of shortage.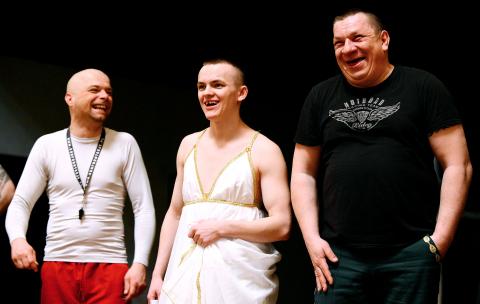 Polish inmates perform Shakespeare's A Midsummer Night's Dream at the Polish Theatre in Warsaw, Poland on April 6. 波蘭監獄收容人四月六日在波蘭華沙的波蘭劇院,演出莎士比亞的《仲夏夜之夢》。
Photo: AFP
照片:法新社
The academics argue that we cannot fully understand Shakespeare unless we study his business-savvy side and the era of hunger in which he lived.
Researcher Jayne Archer said on March 31 that those aspects are overlooked because many people "cannot countenance the idea of a creative genius also being motivated by self-interest."(AP)
新的研究將威廉.莎士比亞描繪成一名穀糧囤積者、放債者與逃稅者,他在飢荒時代成為富商。
來自威爾斯阿伯瑞特威斯大學的學者,徹底搜尋歷史檔案,以揭露這位劇作家生活細節的另一面向─他同時也是行事手段有時觸法的商人與地主。
他因逃稅而遭當局追緝,並在一五九八年因糧食短缺時期囤積穀糧而被起訴。
學者主張,除非我們研究莎士比亞的生意頭腦這一面,以及他生存的飢荒年代,否則我們無法全然了解他。
研究員潔恩.阿契爾三月三十一日指出,那些方面皆被忽略,因為許多人「無法贊同創意天才也會被私利驅使的觀點。」
(美聯社/翻譯:魏國金)
Comments will be moderated. Keep comments relevant to the article. Remarks containing abusive and obscene language, personal attacks of any kind or promotion will be removed and the user banned. Final decision will be at the discretion of the Taipei Times.