New York stages first same-sex weddings 紐約州同性婚姻生效 數百對同性新人完婚
Just after midnight on Sunday at Niagara Falls, Kitty Lambert and Cheryle Rudd became the first same-sex couple to be legally married in New York State.
They were among hundreds of gay and lesbian couples to take the plunge on Sunday after a law allowing same-sex marriages in New York came into effect. They made their vows in front of the famous waterfalls before more than 100 friends and relatives.
Lambert, 54, and Rudd, 53, met in Arizona after divorcing their husbands and have been together 12 years. They have five children and 12 grandchildren between them. "We're finally getting the same rights as everyone else," Rudd told the Associated Press. "Nobody can take that away from us any more."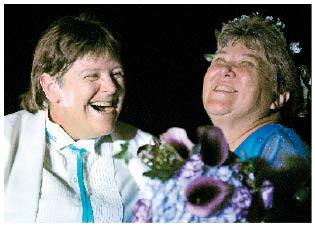 Cheryle Rudd, left, and Kitty Lambert react after being married legally at the stroke of midnight, at the brink of Niagara Falls, in Niagara Falls in New York by the city's mayor, Paul Dyster, on Sunday. 雪若.魯德(左)與綺蒂.朗伯特,週日零時在尼加拉瀑布市長保羅‧戴斯特的主持下,合法完婚。
Photo: Reuters
照片:路透
In New York City 823 same sex couples were granted licenses to marry on Sunday. Phyllis Siegal, 76, and Connie Kopelov, 84, were the first same-sex couple to become legally married in the city. The couple live in Chelsea and have been together for 23 years.
Couples began lining up at the entrance to Manhattan 's Office of the City clerk in New York at 4:30 am, and a crowd gathered to cheer the newlyweds as they left the building.
The city council speaker, Christine Quinn, who is gay, told reporters: "They're here in the most amazing of moments, where their hometown and their state are saying that their family matters, that their family is just as good as everybody else's. And part of the law that in words said they were less than other people, which wasn't true, is now gone."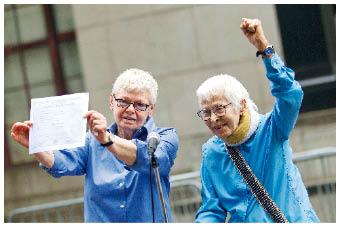 Phyllis Siegel, left, displays her marriage license after she and Connie Kopelov, right, became the first couple to marry at Manhattan's Office of the City Clerk in New York on Sunday. 菲利斯‧西格爾(左)週日在紐約曼哈頓區辦公室外,在與伴侶康妮‧科裴洛夫(右)完婚後,亮出她的結婚證書。她們是在紐約曼哈頓區辦公室第一對合法完婚的同志。
Photo: Bloomberg
照片:彭博社
The New York mayor, Michael Bloomberg, officiated at the marriage between his consumer affairs commissioner, Jonathan Mintz, and his chief policy adviser, John Feinblatt, on Sunday afternoon at Gracie Mansion, the mayor's official residence. The mayor has been an outspoken champion of same-sex marriage rights.
New York is the largest state to legalize same-sex marriage. Others, including Connecticut, Iowa, Massachusetts, New Hampshire and Vermont, plus Washington, D.C., and the Coquille Indian Tribe in Oregon, already recognize gay marriages, and gay rights activists are pushing for New York's neighbor New Jersey to do the same. But most US states have brought in laws or constitutional amendments barring same-sex marriage, and they are not recognized at the national level by the US government.
(THE GUARDIAN)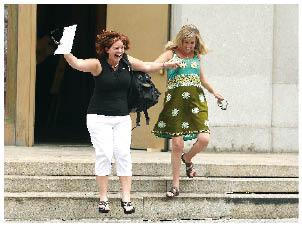 Wendy Torrington, left and Kimberley Moreno, are excited with joy as they exit Manhattan's Office of the City Clerk after receiving a marriage license in New York on Sunday. 溫蒂‧托靈頓(左)與金柏莉‧莫雷諾週日,在拿到結婚證書並步出紐約曼哈頓區辦公室時,欣喜之情、溢於言表。
Photo: AFP
照片:法新社
週日零時一到,綺蒂.朗伯特與雪若.魯德在尼加拉瀑布,成為第一對在紐約州合法結婚的同性伴侶。
他們週日與數百對男同志與女同志配偶,一同趕在紐約州承認同性婚姻生效的第一時間,做出結婚的決定。他們在超過百位親友的見證下,於尼加拉瀑布前交換結婚誓言。
五十四歲的朗伯特與五十三歲的魯德各自離開前夫後,在亞利桑那州認識,她們至今已交往十二年了。他們一共有五個小孩與十二個孫子。魯德告訴美聯社說:「我們終於與其他人一般,享有一樣權利。」她說:「再也沒有人能夠剝奪我們所享有的權利。」
New York City Mayor Michael Bloomberg, back, watches as Jonathan Mintz, second left, the city's consumer affairs commissioner, John Feinblatt, right, a chief adviser to the mayor, along with their daughters Maeve, left, and Georgia do a group hug after Mintz and Feinblatt were married at Gracie Mansion in New York on Sunday. 紐約市政府消費者事務局局長強納森‧明茲(左二)與市長的一位顧問約翰‧芬布雷特(右)週日在紐約市長官邸格雷西公寓完婚後,與他們的女兒梅芙(左)與喬治亞相互擁抱,而紐約市市長麥可‧彭博(後)則一旁見證這一刻。
Photo: AFP
照片:法新社
紐約市在週日授予八百二十三對同性伴侶結婚證書。七十六歲的菲利斯‧西格爾與八十四歲的康妮‧科裴洛夫,是該市首對合法結婚的同性伴侶。這對女同志住在雀爾喜區,至今已交往二十三年。
許多對同性伴侶於凌晨四點三十分就在紐約曼哈頓區辦公室外排隊,並有大批支持民眾到場,祝賀一對對走出大樓的同性新人。
該市議會議長克莉絲汀‧奎茵也是同志,她向記者表示:「他們在最值得慶賀的此刻聚集此地,他們的城鎮與他們的州政府,重視他們的家庭,並說他們的家庭就像其他家庭一樣棒。有部分法律文字過去寫道,他們低其他人一等,但實則不然,這種說法現已煙消雲散。」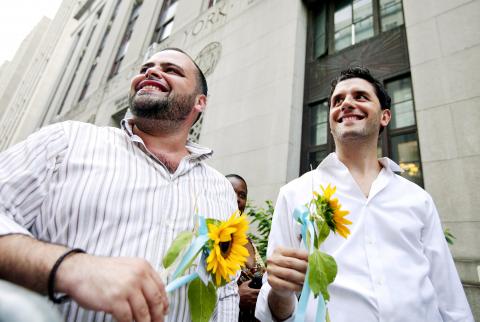 Simon Pinsky, left, and Joshua Pinsky wait in line to get their marriage license outside Manhattan's Office of the City Clerk in New York on Sunday. 賽門‧平斯基(左)與約夏‧平斯基週日在紐約曼哈頓區辦公室外,排隊等候他們的結婚證書。
Photo: Bloomberg
照片:彭博社
紐約市市長麥可‧彭博週日下午在市長官邸格雷西公寓,為其府內的消費者事務局局長強納森‧明茲與其首席政策顧問約翰‧芬布雷特主持婚禮。彭博市長一向坦率地支持同性婚姻。
紐約是同性婚姻合法的州中,人口最多的。其他已承認同志婚姻的地方包含康乃狄克州、愛荷華州、麻薩諸塞州、新罕布夏州、佛蒙特州、華府與奧勒岡州的印第安柯奇爾族;同時,同志權利倡議者正努力讓緊鄰紐約州的紐澤西州,也將同性婚姻合法化。但美國大多數的州,以法律或憲法修正案的方式,禁止同性婚姻,同時同性婚姻尚未得到美國聯邦政府的承認。
(《衛報》/翻譯:林亞蒂)
Publication Notes
TODAY'S WORDS 今日單字
1. take the plunge idiom
做出決定 (zuo4 chu1 jue2 ding4)
例: His mother advised him to think it over carefully before finally taking the plunge with his partner.
(他母親忠告他在與伴侶做出決定前,要三思而後行。)
2. outspoken adj.
坦率的 (tan3 shuai4 de5)
例: The mayor is an outspoken advocate for gay marriage and gay rights.
(這位市長是一位對同志婚姻與同志權利坦率的支持者。)
3. bar v.
禁止 (jin4 zhi3)
例: The US has repealed laws barring homosexuals from serving in the military.
(美國廢除禁止同性戀從軍的法律。)
Comments will be moderated. Keep comments relevant to the article. Remarks containing abusive and obscene language, personal attacks of any kind or promotion will be removed and the user banned. Final decision will be at the discretion of the Taipei Times.