Music shakes off taboo to heal disabled Iranians 擺脫伊朗禁忌 音樂治療讓殘障人士找回一片天
As Sadeq Jafari switched on his electric piano, his students shunted their wheelchairs enthusiastically around him to rehearse new songs.
Music therapy, a common practice in large parts of the world, is extremely rare in Iran, where conservative clerics outlawed pop music after the country's 1979 Islamic revolution.
Jafari, 33, is one of a handful of therapists in the Islamic state who use music to help severely disabled people find their voices, risking the ire of his conservative family and censure from religious authorities.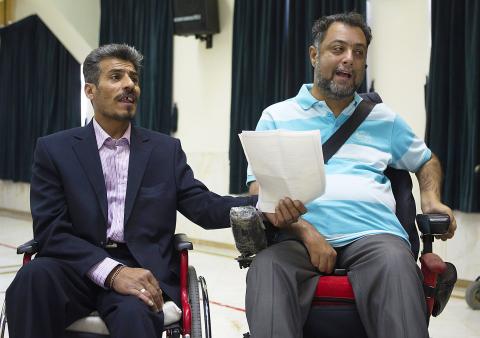 Two disabled students sing a song during a music therapy session at the Kahrizak nursing home in southern Tehran, Iran, on June 25. 兩位殘障學生六月二十五日在伊朗德黑蘭南部的卡瑞薩克療養院的音樂治療課程中,唱一首歌。
Photo: Reuters
照片:路透
Kahrizak Charity Foundation, in a leafy campus on the outskirts of the capital Tehran, is home to hundreds of physically handicapped people, young and old, who lack financial support.
Each Monday, dozens wait impatiently for Jafari to walk through the door.
Jafari grew up in a religious family which found all forms of music unacceptable. His relatives initially cut ties with him, but their stance softened when they saw the impact of his work on the lives of his patients.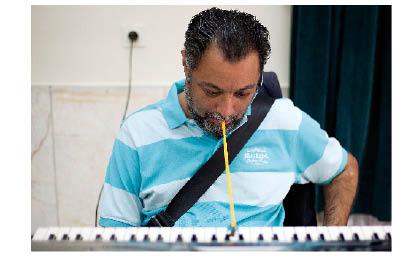 Shahram Khodaie, a disabled Iranian, tries to play the keyboard by using a tool with his mouth during a music therapy session in Iran on June 25. 伊朗殘障人士沙赫拉姆‧科侯戴依,六月二十五日在伊朗的一堂音樂治療課程中,使用其嘴巴演奏。
Photo: Reuters
照片:路透
Reza Bakhtiari was paralyzed at six and lost his sight at the age of 30. "It has been three years since I began to attend these classes ... It is like a life skills training," said Bakhtiari, now 45. "Now that I've got the courage, I have published two poetry books."
It can take up to three months to teach a new song. Jafari also has to overcome cultural barriers, including the shyness of his female students. Many Iranians disapprove of women raising their voices, a problem when it comes to rehearsals.
Iran's musical restrictions have eased over the past decade and pop music has become increasingly common in some parts of society. But the idea of female artists singing or dancing in front of male audiences is still completely taboo.
A mentally disabled student tries to sing a song during a music therapy session in Iran on June 25. 參加音樂治療課程的一位患有心智障礙的學生,六月二十五日在伊朗,嘗試在課堂上唱歌。
Photo: Reuters
照片:路透
Staff at the center say music does much more than cheer people up. "Music shortens the recovery period since it has a calming effect ... It gives them energy and even alleviates the physical pain," psychologist Marzieh Alaleh told Reuters.
Jafari uses a lot of traditional Persian folk songs with familiar themes. He describes the changes in his patients as "tangible."
(REUTERS)
Iranian music therapist Sadeq Jafari speaks with Reuters during an interview after a music therapy session in Iran on June 25. 伊朗音樂治療師薩德克‧賈伐瑞六月二十五日在伊朗的音樂治療課程結束後,接受路透專訪。
Photo: Reuters
照片:路透
當薩德克‧賈伐瑞開啟電鋼琴開關,他的學生滿腔熱忱地移動他們的輪椅,圍繞賈伐瑞排練新曲。
音樂治療在大多數的國家是稀鬆平常的事,但對伊朗來說,則極為罕見,因該國的保守教長在一九七九年伊斯蘭革命後,使流行音樂成為非法。
三十三歲的賈伐瑞,是伊斯蘭國家中,許多應用音樂幫助重殘人士找回自己聲音的治療師之一,從事此業是冒著可能導致其保守家庭憤怒且被宗教當局譴責的危險。
卡瑞薩克慈善基金會座落在首都德黑蘭外圍林木茂密的地方。此處也是上百位缺乏經濟後盾的老少身障人士的居所。
院內許多人每週一,都會熱切期待等候賈伐瑞的到來。
賈伐瑞在一個不接受任何形式音樂的宗教家庭長大。其親戚原先與他斷絕關係,但當看到賈伐瑞所做所為,帶給其病患生命的影響力,他們原先的立場也隨之鬆動。
現年四十五歲的瑞札‧巴赫地亞里自六歲起就癱瘓,三十歲失明。他說:「我從開始上這些課程迄今已三年…它就像是個生活技能訓練。」他說:「我現在已有勇氣,並且我已出版了兩本詩集。」
教導一首新歌,需要花上長達三個月的時間。賈伐瑞同時也要幫忙克服學生的文化障礙,包含女學生害羞的個性。許多伊朗人不允許女性提高他們的嗓音,這讓排練變得傷腦筋。
伊朗在音樂上的限制已在過去十年間逐漸放寬,流行音樂已在該國某些地區愈趨普及。對於女性藝術家在男性觀眾面前唱歌跳舞,則仍是完全的禁忌。
療養院的員工說,因為音樂不單只讓人們心情變好。心理師馬茲齊耶赫‧阿拉列赫告訴路透說:「音樂因有安撫人心的效果,能縮短復原時程…它給予病患力量,甚至能減輕身體疼痛。」
賈伐瑞運用許多帶有熟悉主題旋律的傳統波斯民謠。他表示病患的轉變,是「有目共睹的」。
(路透/翻譯:林亞蒂)
Publication Notes
TODAY'S WORDS 今日單字
1. ire n.
憤怒 (fen4 nu4)
例: Heated debates thwarted all progress during the negotiations, drawing ire from both parties.
(激烈的辯論使協商進展受阻,雙方陣營皆感憤怒。)
2. taboo n.
禁忌 (jin4 ji4)
例: The 228 Incident of 1947 was taboo in Taiwan for decades, but it is now openly discussed.
(一九四七年發生的二二八事件,在台灣曾有數十年是社會禁忌,但現在可被公開討論了。)
3. tangible adj.
有目共睹的 (you3 mu4 gong4 du3 de5)
例: Some tangible achievements were seen during the mayor's first term in office.
(在市長首次任期中,看到一些有目共睹的成果。)
Comments will be moderated. Keep comments relevant to the article. Remarks containing abusive and obscene language, personal attacks of any kind or promotion will be removed and the user banned. Final decision will be at the discretion of the Taipei Times.