Whales can't resist a catchy pop tune: study 研究:鯨魚版流行音樂 魅力無法擋
Humpback whales love a good hit single, and every year a new catchy pop tune spreads among the male underwater crooners, said an Australian study released on April 14.
The males are the only ones who sing, likely in the hopes of making some lady whale swoon, according to the research published in the US journal Current Biology.
If there is a whale version of the King of Pop, he likely resides off the coast of eastern Australia, because that is where the popular tune of the season has always originated for the past decade, researchers said.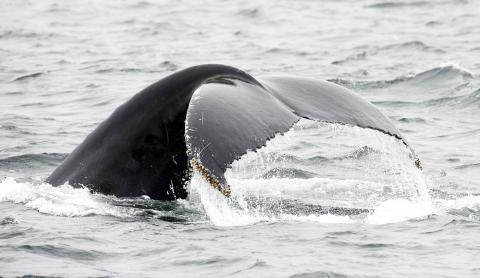 A Humpback whale is seen off the shores of Provincetown, Massachusetts on Aug. 5 last year. 一頭座頭鯨去年八月五日攝於麻州普文斯城。
Photo: AFP
照片:法新社
The hit-making tune then ripples eastward across the South Pacific Ocean, from Australia to French Polynesia, infecting genetically distinct groups of whales who all start singing the same song during breeding season.
In typical pop music fashion, the tunes are not all that original most of the time, said researcher Ellen Garland, a graduate student at The University of Queensland.
"It would be like splicing an old Beatles song with U2," Garland said. "Occasionally they completely throw the current song out the window and start singing a brand new song."
The 11-year study described itself as the "first documentation of a repeated, dynamic cultural change occurring across multiple populations at such a large geographic scale."
What remains a mystery is why the whales all sing the same song, when presumably their efforts are meant to make them stand out from the pack.
"We think this male quest for song novelty is in the hope of being that little bit different and perhaps more attractive to the opposite sex," said Garland.
"This is then countered by the urge to sing the same tune, by the need to conform."
(AFP)
澳洲四月十四日公布一項研究,座頭鯨喜愛好聽的流行單曲,每年都會聽到海底公座頭鯨群間低吟傳唱一首新的好聽易記的新曲曲調。
根據刊登在美國雜誌《當代生物》的研究報告,只有公鯨吟唱,可能是希望能令母鯨為其傾倒。
研究人員說,若真有鯨魚版流行音樂之王,他可能住在澳洲東部海岸,因為那裡是過去十年來每季流行曲調首聞之處。
一炮而紅的曲調,橫跨南太平洋,從澳洲到法屬玻里尼西亞,向東擴散,影響不同基因的鯨群,在繁殖季期間,吟唱同樣歌曲。
昆士蘭大學研究生艾倫‧賈蘭德說,在典型流行音樂方面,曲調並非一直都只唱原創曲。
賈蘭德說:「它會像一首披頭四曲加入U2的剪輯。」她說,「他們偶爾會全然捨棄目前的歌曲,開始改唱一首全新的曲子。」
耗時十一年完成的研究,形容這項報告是「第一個記載文件,說明生活在如此龐大地理範圍內橫跨許多族群間,週而復始、充滿活力的文化活動。」
研究人員認為鯨群唱歌可能是要從群體裡脫穎而出,但為何這些鯨魚都唱著同一首歌曲,仍是個謎。
賈蘭德說:「我們認為這種雄性鯨魚對新奇歌曲的追求,是希望彰顯其些微的個別差異,或許可能因此更吸引異性。」
她說,「這種求異行為,與鯨群想順應群體而同唱一曲的求同,相互對立。」
(法新社/翻譯:林亞蒂)
Publication Notes
TODAY'S WORDS 今日單字
1. catchy adj.
好聽易記的 (hao3 ting1 yi4 ji4 de5)
例: That's a catchy tune. Whenever I hear it, I just can't help but sing along, and it gets stuck in my head for hours.
(那是個好聽易記的曲調。每當我聽它,我就不自主地吟唱起來,並在我腦海內盤旋多時。)
2. ripple v.
擴散 (kuo4 san4)
例: The singer's popularity quickly rippled across the globe as his latest hit song spread to more and more countries.
(因這位歌手的熱門單曲傳播到越來越多的國家,其受歡迎程度擴散至全球。)
3. quest n.
追求 (zhui1 qiu2)
例: Their team is on a quest to win the cheerleading world championships next year.
(他們的隊伍致力於追求明年的啦啦隊世界冠軍。)
Comments will be moderated. Keep comments relevant to the article. Remarks containing abusive and obscene language, personal attacks of any kind or promotion will be removed and the user banned. Final decision will be at the discretion of the Taipei Times.