South Korean accused of cooking up phone claim 為詐財 南韓男子微波手機謊稱爆炸
A South Korean has been arrested for allegedly cooking his mobile phone in a microwave oven and then claiming damages from the manufacturer, Samsung Electronics, police said on Jan. 21.
The 28-year-old, identified only as Lee, is accused of accepting compensation of five million won (about NT$130,000) from the firm after claiming his phone had exploded while being charged.
But the National Institute of Scientific Investigation in South Korea concluded that the phone was "artificially modified" by exposure to electromagnetic waves in a microwave oven, police said in a statement.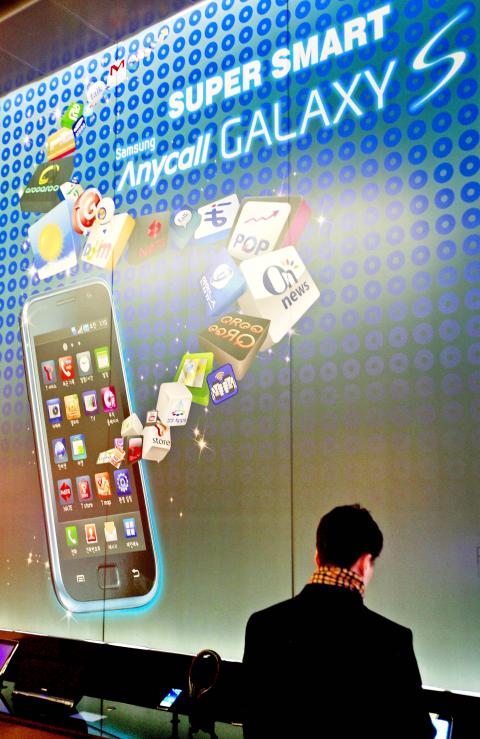 A visitor looks at exhibits in the Samsung Electronics gallery of the Samsung Electronics headquarters in Seoul, South Korea on Jan. 7. 一月七日於南韓首爾,一位參訪者觀看三星電子總部藝廊的展示品。
PHOTO: EPA
照片:歐新社
Lee staged about 50 one-man protests in front of Samsung Electronics' headquarters and at Incheon International Airport before receiving compensation.
(AFP)
警方在一月二十一日表示,一名南韓人因聲稱手機受損向三星電子索賠,不過後來遭揭發他竟然是把手機放到微波爐裡加熱,因而遭警方逮捕。
這位二十八歲的李姓男子,因聲稱他的手機在充電時爆炸向公司騙取五百萬韓圜(約新台幣十三萬元)賠償金,而遭到起訴。
警方在一份聲明指出,不過,南韓國家科學研究中心在調查後發現,這支手機被微波爐裡電磁波「人為改造」過。
李姓男子在獲得賠償前,曾在三星電子總部與仁川國際機場前抗議不下五十次。
(法新社/編譯:林亞蒂)
Comments will be moderated. Keep comments relevant to the article. Remarks containing abusive and obscene language, personal attacks of any kind or promotion will be removed and the user banned. Final decision will be at the discretion of the Taipei Times.