Study finds link between tweets and stock market 研究顯示 推文心情與股市漲跌有關
Can Twitter predict the ups and downs of the stock market?
Researchers at a US university found they were able to predict the rise and fall of the Dow Jones Industrial Average with near 90 percent accuracy several days in advance by analyzing messages on Twitter.
The researchers at Indiana University-Bloomington's School of Informatics and Computing analyzed more than 9.8 million "tweets" from 2.7 million users of the micro-blogging service during 10 months in 2008.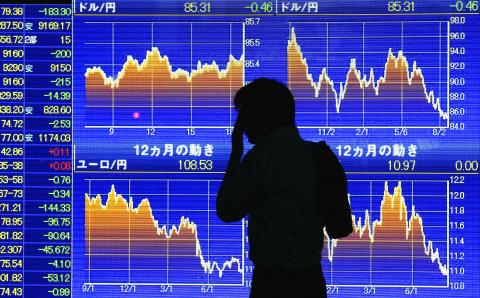 A pedestrian gestures as he stands before a market indicator board in Tokyo on Aug. 20, 2010. 這張攝於八月二十日的照片,是一位站在東京股市看板前擺手勢的行人。
PHOTO: EPA 照片:歐新社
They measured the "collective public mood" through tweets and then compared it to closing stock market values and found a correlation between the value of the Dow and public sentiment, Indiana University said in a press release.
"What we found was an accuracy of 87.6 percent in predicting the daily up and down changes in the closing values of the Dow Jones Industrial Average," said Johan Bollen, an Indiana University associate professor who carried out the study with PhD candidates Mao Hui-na and Zeng Xiao-jun of the University of Manchester.
Indiana University said the researchers used two mood-tracking tools — OpinionFinder and Google's Profile of Mood States (GPOMS) — to analyze the text content of the Twitter messages.
In an interview with the CNBC financial news channel, Bollen said "the public mood as expressed on Twitter by millions of people posting their Twitter feeds on a daily basis fluctuates over time.
"Those fluctuations, at least one of the indications we monitor — namely mood, calm versus anxious — is actually correlated with the Dow Jones Industrial Average's closing values," he said.
"It was surprising to us, because we thought it would actually follow the Dow Jones Industrial Average, in the sense that if it goes up, people are happy, if it goes down people are sad," Bollen said.
"But it turns out (that) the movements in the public mood actually predated from three to four days the up and down movements of the Dow Jones Industrial Average," he said.
The study is available for download at http://arxiv.org/abs/1010.3003.
(AFP)
微型部落格「推特」到底可不可以預測股市漲跌?
美國一所大學研究員發現,他們能夠以分析推特上的留言,預測數天後的道瓊工業指數漲跌,準確度幾乎高達百分之九十。
印第安那大學布盧明頓電腦與資訊學院研究員自該微型部落格的兩百七十萬個使用者中,連續十個月於二零零八年,分析了超過九百八十萬則「推文」。
印第安那大學透過新聞稿表示,研究人員以推文測量了「集體公眾情緒」,並將結論拿來與股市收盤價比較,且發現道瓊指數與大眾心情的關聯。
印第安那大學助理教授約翰‧波倫與曼徹斯特大學博士候選人毛慧娜(暫譯)與鄭曉君(暫譯)一塊完成這項研究。教授表示,「我們發現預測每日道瓊工業指數的漲跌準確性高達百分之八十七點六。」
印第安那大學表示,研究人員使用了兩種網路追蹤心情工具─意見發覺者(OpinionFinder)與Google心情狀態(GPOMS)─以分析推文內容。
波倫接受CNBC財經新聞頻道採訪時表示,「數以百萬人每日於推特上所表達的情緒隨著時間而波動。」
他說,「這些波動─也就是情緒選項的『平靜』與『焦慮』─正好與道瓊工業指數的收盤價有關。」
波倫說,「我們也感到驚訝,因為我們原本想的是心情會跟著道瓊工業指數走,也就是說指數上漲大家就開心,如果下跌大家就不開心。」
他說,「但結果顯示,人們的情緒好壞確實比道瓊工業指數漲跌早個三到四天。」
這項研究可於http://arxiv.org/abs/1010.3003下載。
(法新社/翻譯:吳岱璟)
Publication Notes
TODAY'S WORDS 今日單字
1. collective adj.
集體的 (ji2 ti3 de5)
例: Collective bargaining has greatly improved our negotiating position.
(集體協議大大地改善了我們談判的地位。)
2. sentiment n.
情緒 (qing2 xu4)
例: Investor sentiment has taken a turn for the worse recently.
(投資者情緒最近變得更低落。)
3. predate v.
領先 (ling3 xian1)
例: Our patent predates our competitors' products by several years.
(我們的專利領先競爭者的產品數年。)
Comments will be moderated. Keep comments relevant to the article. Remarks containing abusive and obscene language, personal attacks of any kind or promotion will be removed and the user banned. Final decision will be at the discretion of the Taipei Times.