International flavor: Bakery links baguette prices to euro 歐元計價…吳寶春徒弟賣麵包 價格天天不一樣
A young baker in Kaohsiung last month opened a bakery that links its bread prices to the euro, meaning that prices change from day to day accor-ding to the fluctuations of the euro.
The bakery's owner is Wu Tzu-ching, a 24-year-old apprentice of 2010 Masters de la Boulangerie winner Wu Pao-chun. The younger Wu and his associate Wang Peng-chieh opened the Boulangerie Shakespeare on Sept. 8 on Kaohsiung's Kuanghua Road. The store sells around 30 baguettes per day at about 1.5 euros, which equates to about NT$54. The price changes from day to day and is quoted according to the value of the euro listed at the neighboring branch of the Taiwan Cooperative Bank.
Wu said that the French government mandates that the price of a baguette mustn't exceed two euros, and government officials inspect bakeries so the rule is closely observed. After returning to Taiwan he decided to follow the same policy and sell bread in Kaohsiung at the same price as in Paris.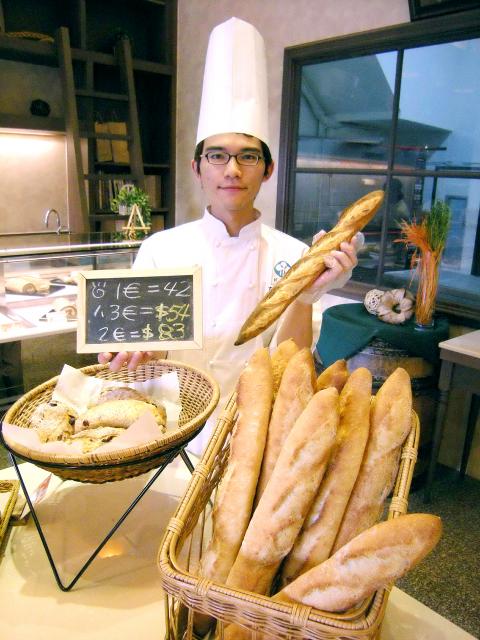 Baker Wu Tzu-ching holds up a baguette next to a chalkboard showing prices in euros and New Taiwan Dollars. 九月三十日,麵包師傅武子靖手拿一條法國長麵包,旁邊有個小黑板,寫著當天歐元匯率與當天新台幣麵包價格。
PHOTO: HUANG HSU-LEI
照片:自由時報記者黃旭磊
In 2007 Wu represented Taiwan at an international bakery competition in Shizuoka, Japan. After receiving tutelage from Wu Pao-chun, he managed to see off competition from a Japanese entrant to claim second prize behind the French contingent. Wu has visited Paris three times, where he found a bookstore called Librairie Shakespeare on the banks of the Seine. The store's relaxing atmosphere inspired him to use its name for his own bakery.
Wu and Wang borrowed over NT$5 million to set up the bakery and they often worry about being able to make the repayments, but he feels much better at 6pm when customers line up along Kuanghua Road to buy their freshly baked bread.
(LIBERTY TIMES, TRANSLATED BY TAIJING WU)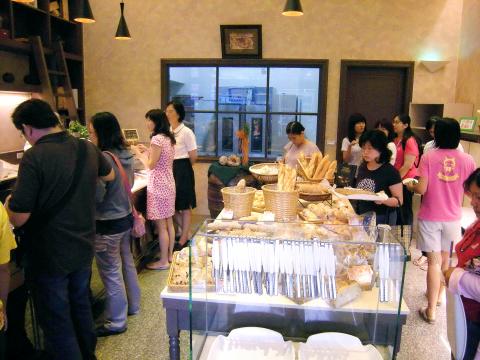 customers browse the bread selection at the Boulangerie Shakespeare in Kaohsiung on Sept. 30, 2010. 九月三十日,顧客於高雄的莎士比亞烘焙坊瀏覽各式各樣的法國麵包。
PHOTO: HUANG HSU-LEI
照片:自由時報記者黃旭磊
高雄市一位年輕麵包師傅上個月開了一家以歐元計價的麵包店,因此香噴噴的麵包每天價格不一,會隨著歐元的匯率而波動。
世界麵包比賽冠軍吳寶春的二十四歲徒弟武子靖,及合夥人王鵬傑,九月八日於高雄市光華路開設莎士比亞烘焙坊。店中法國麵包每天熱賣三十幾條,採歐元計價,約一點五歐元,折合台幣約五十四元,價格每天不同,且匯率依照隔壁合作金庫牌價變動。
武子靖說,法國政府規定條狀麵包不能超過二歐元,官員常上街頭查價,因此店家都守規矩。回國後他決定與當地同步政策,參考巴黎的麵包價在高雄販賣。
武子靖二零零七年代表台灣到日本靜岡參加國際技能競賽,出國前接受吳寶春指導,擊敗日本對手獲得第二,僅次於法國隊。他曾三度到巴黎,喜歡塞納河旁「莎士比亞書店」典雅休閒氣氛,故以此命名自己的麵包店。
新店貸款五百多萬元,他與合夥人王鵬傑擔心還不清。但是晚上六點蜂巢麵包出爐,人潮常排到光華路旁,他說,營業額「放心多了」。
(自由時報記者黃旭磊)
Publication Notes
TODAY'S WORDS 今日單字
1. apprentice n.
學徒 (xue2 tu2)
例: Jake was an apprentice carpenter for a number of years.
(傑克曾當過數年的木匠學徒。)
2. baguette n.
法國長麵包 (fa4 guo2 chang2 mian4 bao1)
例: This bakery sells the best baguettes in the city.
(這家麵包店賣的是全市最好的法國長麵包。)
3. mandate n.
強制執行 (qiang2 zhi4 zhi2 xing2)
例: The government has mandated lower carbon emissions for all vehicles.
(政府對於所有的交通工具強制執行低碳排放規定。)
4. tutelage n.
指導 (zhi2 dao3)
例: The students are under the tutelage of one of the world's finest painters.
(學生受到世上最好的畫家之一指導。)
Comments will be moderated. Keep comments relevant to the article. Remarks containing abusive and obscene language, personal attacks of any kind or promotion will be removed and the user banned. Final decision will be at the discretion of the Taipei Times.