Prince in tighty whities takes top prize 丹麥皇室諷刺畫奪首獎
A portrait depicting Denmark's Australian-born Princess Mary breastfeeding in sheepskin boots while her Y-front clad husband sips a beer has won Australia's premier satirical arts prize.
James Brennan's The Official Portrait of the Danish Royal Family won the annual Bald Archy prize, a spoof of the long-established Archibald portrait prize, which was awarded last week.
Brennan, a 33-year-old railway worker, took delight in portraying the glamorous royal couple and their two children as a stereotypical Australian family.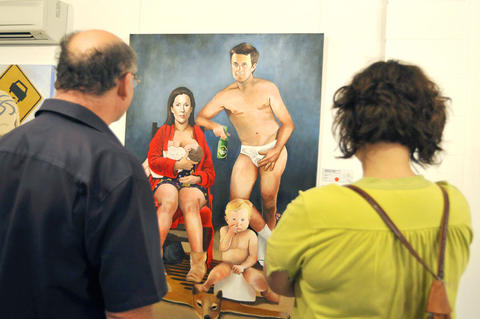 Gallery visitors view The Official Portrait of the Danish Royal Family in Canberra on March 10, 2008. 上星期一,民眾於坎培拉的美術館欣賞《丹麥皇室家庭的官方肖像》。照片:歐新社
PHOTO: EPA
In the painting, a seated Princess Mary is breastfeeding daughter Isabella while wearing a red flannel dressing gown and sheepskin boots.
Her husband Prince Frederik is leaning against her chair resplendent in white Y-fronts, socks and flip-flops, one hand clutching a Carlsberg beer.
At the couple's feet, their son Christian sits on a potty, picking his nose intently, while on the ground is a rug made from a Tasmanian tiger, the now extinct animal that symbolizes the Australian island state where Mary was born.
Brennan admitted the portrait, which contrasts strongly with the images regularly seen in Australian women's magazines of Princess Mary wearing designer gowns, was painted to shock.
But he said Princess Mary, who was working as a real estate agent when she met her husband-to-be in a pub during the 2000 Olympics, might have the right sense of humor to appreciate the joke.
The Danish embassy in Canberra refused to comment on the portrait when contacted by AFP.(AFP)
一幅描寫丹麥皇室夫婦的肖像畫贏得澳大利亞第一大諷刺藝術作品首獎,畫中描繪澳大利亞出生的丹麥王妃瑪麗穿著羊皮靴子哺乳,以及她丈夫穿著三角內褲在旁啜飲啤酒的景象。
詹姆士.布倫南的《丹麥皇室家庭的官方肖像》贏得了年度「伯德阿契」諷刺畫獎;該獎項是成立已久的「阿契伯德」肖像畫獎的諷刺版,今年的「阿契伯德」肖像畫獎在上星期頒發。
布倫南是名三十三歲的鐵路工人,他對於能夠將尊貴迷人的皇室夫婦以及他們的小孩描繪成刻板印象中的澳大利亞家庭,感到很高興。
畫像中,瑪麗王妃身穿紅色法蘭絨長袍睡衣和羊皮靴子坐在椅子上給女兒伊莎貝拉哺乳。
她的丈夫弗雷德里克王子則是穿著白色三角內褲、襪子和夾腳拖鞋,神采奕奕地倚靠在她的椅子上,手?還拿著瓶嘉士伯啤酒。
在這對夫婦的腳旁,他們的兒子克里斯丁坐在便壺上,專心地摳著鼻孔,地板上鋪著由塔斯馬尼亞虎皮製成的墊子,這種現在已滅絕的老虎象徵著瑪麗出生的澳大利亞。
這幅畫中的瑪麗王妃和她平時出現在澳大利亞女性雜誌上身穿名牌長禮服的形象形成強烈對比,布倫南承認創作此畫是想要轟動社會。
然而他也表示,瑪麗王妃應該能夠欣賞他的幽默感;瑪麗王妃原是房地產經紀人,在二○○○年奧運會期間,在一個小酒館邂逅弗雷德里克。
當法新社記者聯絡駐坎培拉丹麥大使館,對此事進行採訪時,使館拒絕發表任何看法。(法新社/翻譯:楊鴻泰)
Publication Notes
TODAY'S WORDS今日單字
1. satirical adj.
諷刺的 (feng4 ci4 de5)
例: "I wasn't aware that this article was supposed to be satirical," Huey said .
(休伊說:「我沒有意識到這是篇諷刺文章。」)
2. stereotypical adj.
刻板印象的 (ke4 ban3 yin4 xiang4 de5)
例: This movie is full of stereotypical characters .
(這部電影充滿了刻板印象的角色。)
3. resplendent adj.
燦爛的 (can4 lan4 de5)
例: Iris was gazing at resplendent drifts of snowflakes .
(艾莉絲盯著燦爛的雪花看。)
4. embassy n.
大使館 (da4 shi2 guan3)
例: There was a bombing at the embassy .
(大使館發生了一起爆炸事件。)
Publication Notes
SAY WHAT?說說看
royal couple 皇室夫婦
The relationship between Princess Mary and Prince Frederik is often described as a modern day fairy tale.
The two met when Frederik was attending the 2000 Sydney Summer Olympics. Mary says she knew nothing of Frederik's royal status at the time.
They married in May 2004. To marry Frederik, Mary had to give up her Australian and British citizenship.
She's the first Australian-born princess in a reigning European monarchy.
丹麥王妃瑪麗和弗雷德里克王子之間的戀情常常被形容成現代版的愛情童話故事。
兩人相識於二○○○年,當時弗雷德里克王子正好赴雪梨出席夏季奧運,瑪麗說她當時對弗雷德里克的皇室身分一無所知。
二○○四年五月他們步入禮堂。瑪麗為了嫁給弗雷德
里克,放棄了澳大利亞和英國的公民身分。
她是歐洲王室第一位於澳大利亞出生的王妃。
Publication Notes
OUT LOUD 對話練習
Mary: I'm tired of learning Dutch. When does the postie come?
Christine: In an hour or so. Why?
Mary: I ordered a new pair of sunnies yesterday and want to wear them out to lunch. God I'm hungry. I only had a dingo's breakfast this morning.
Christine: How about we practice Dutch a bit longer. You need to learn this.
Mary: I suppose. I wouldn't want people to think I'm a drongo or something.
瑪莉:我不想再學荷蘭語了,郵差什麼時候來?
克莉絲丁:大約再一個小時吧,怎麼了?
瑪莉:昨天我郵購了一副太陽眼鏡,我想戴著它去吃午餐。天啊,我肚子好餓,我晃了一個早上,都還沒吃早餐。
克莉絲丁:我們再練習一下荷蘭語,你得學會這個。
瑪莉:我猜也是,我可不想讓人覺得我很笨還是什麼的。
postie 郵差 dingo's breakfast 閒晃(沒吃早餐)
sunnies 太陽眼鏡 drongo 笨蛋
The words above are all examples of Australian slang. A postie is a postman, sunnies are sunglasses, a drongo is an idiot and a dingo's breakfast is a yawn, a pee and a look around (in other words, no breakfast).
上面的這些字都是澳洲俚語;「postie」意指郵差,「sunnies」意指太陽眼鏡,「drongo」意指笨蛋,「dingo's breakfast」意指打一下哈欠,上一下廁所和到處看一下(換言之,就是「沒有吃早餐」的意思)。
Comments will be moderated. Keep comments relevant to the article. Remarks containing abusive and obscene language, personal attacks of any kind or promotion will be removed and the user banned. Final decision will be at the discretion of the Taipei Times.