Laughter as a force for world peace 笑出世界和平
Japanese professor Yoji Kimura has invented a machine to chart out laughter - and a new unit of "aH" to calculate it.
"We have found that children laugh more freely, releasing 10 aH per second, which is about twice as much as an adult," said Kimura, a professor at Kansai University in the western city of Osaka.
"Adults tend to calculate whether it's appropriate to laugh and under those restraints they eventually forget how," he said.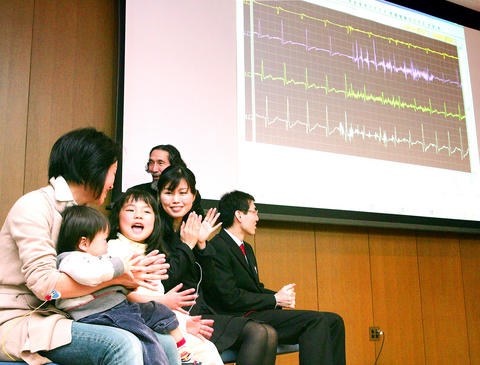 University Professor Yoji Kimura (standing at the back) demonstrates how to measure laughter in Osaka on Feb. 20, 2008. 本月二十日,大學教授木村洋二(站在後方者)在大阪示範如何測量笑聲。 照片:法新社
PHOTO: AFP
"Laughing is like a restart function on a computer. Laughing freely is very important in the course of human evolution," he said.
Kimura, who believes in "a shift from a century of wars to a century of humor and tolerance," has studied the science of laughter for decades in Osaka, the hub of Japan's stand-up comedy scene.
In his theory, human laughter is produced in four successive emotional stages - letting loose, then deviating from the norm, followed by freely laughing and then having the laughter overflow.
"I believe there is a circuit in the human brain that creates laughter through these steps to the stage of overflowing," Kimura said confidently. "Understanding this mechanism is the door to resolving one secret of human beings."
To measure laughter, sensors are attached to the stomach, particularly the diaphragm, which detect muscle movements. The machine looks 3,000 times a second at electric elements normally produced in the body. It will be possible to distinguish faked laughter and different types of laughter such as derision and cynicism.
"I have a theory that humor detected in the brain gets directly discharged through the movement of the diaphragm," Kimura said. (AFP)
日本的木村洋二教授發明了一種能將好笑程度數值化的儀器,及測量其程度的新單位「啊哈」。
大阪市西部的關西大學教授木村說:「我們發現孩子更能發自內心地笑,一秒能釋放十單位的『啊哈』指數,比成人高出一倍。」
他說:「成人想笑時會先考慮情況是否合宜,在這種抑制下最後就忘了如何真正發自內心地笑了。」
他說:「笑就像是電腦的重新開機功能,發自內心地笑在人類演化過程中相當重要。」
木村相信現在已「從戰爭的世代轉換到幽默和寬容的世代」,他在大阪研究笑容科學已有數十年之久,大阪是日本單口相聲的大本營。
他的理論提到,人類的發笑過程由四個相繼的情緒階段所組成-放鬆、偏離常軌、發自內心笑出來,到大笑不止。
「我認為人類腦中有一套迴路系統,會引發笑容經過不同階段,到最後大笑不止,」木村肯定地表示:「理解這套機制是通往解決人類奧秘之路。」
為了測量好笑程度,感應器設置在腹部橫隔膜的位置,用以偵測肌肉運動;這個儀器一秒檢測三千次人體自然產生的動作電位,能分辨假笑和其他多種笑法,如嘲笑和譏笑。
木村說:「我有一個理論,當大腦接收到幽默感應時,會直接放鬆造成橫隔膜震動。」
(法新社/翻譯:袁星塵)
Publication Notes
TODAY'S WORDS 今日單字
1. successive adj.
相繼的 (xiang1 ji4 de5)
例: Sarah was known for her successive string of rich fiancees.
(莎拉因連續交往多位有錢的未婚夫而出名。)
2. deviate adj.
異常的 (yi4 chang2 de5)
例: The word deviate is sometimes abbreviated to DV8.
(「deviate」這個字有時會縮寫成「DV8」。)
3. derision n.
嘲笑 (chao2 xiao4)
例: "They treat us with nothing but derision!" Henry complained.
(亨利抱怨:「他們根本就是在嘲笑我們嘛。」)
4. cynicism n.
譏諷 (ji1 feng4)
例: The ministers' repeated lies led to marked public cynicism.
(那位部長一再地說謊引起了大眾一陣譏諷。)
Publication Notes
SAY WHAT? 說說看
the hub 中樞
The hub of something refers to the center which other things revolve around. The expression comes from the name for the center of a wheel, the hub, from which the spokes extend and without which the wheel would be useless.
The term hub is also used to describe important transport centers. For example airports are often referred to as hubs. A major shipping city such as Kaohsiung might be described as a shipping hub.
「 the hub 」可以用來比喻為某事物的中樞,周圍事物都以此為中心;「hub」這個字原指車輪中心(車轂),從此處延伸出輪輻,車輪缺少車轂就不能跑了。
「hub」這個字也可用來形容重要的交通樞紐,例如機場就常被稱作「hub」;像高雄這個主要的運輸城市也可稱作「a shipping hub」。
Publication Notes
OUT LOUD 對話練習
James: I'm going paintballing at the weekend with a big group of friends. Do you want to come along?
Kate: I've never been paintballing. Is it fun?
James: Totally. You get to run around, get splattered with paint, splatter your friends with paint...
Kate: It sounds like a gas. I'd love to come.
James: Great! I'll text you the address.
詹姆士:我週末要和一大群朋友去打漆彈,妳要一起來嗎?
凱特:我從來沒有打過漆彈耶,好玩嗎?
詹姆士:超好玩的!你可以到處跑來跑去、被漆彈擊中、用漆彈槍射擊你的朋友…
凱特:聽起來好像很有趣,我也要參加。
詹姆士:太棒了!我再傳簡訊通知你地點。
a gas 一件快樂的事
If something is a gas then it is very amusing or a lot of fun. For example: "I had a gas at Adon's party. There was a great crowd of people, and I made some new friends."
「a gas」表示某件很有趣或很好玩的事,例如﹔「我在艾頓的派對上玩得很開心,那裡有一群很有趣的人,我交了一些新朋友」。
Comments will be moderated. Keep comments relevant to the article. Remarks containing abusive and obscene language, personal attacks of any kind or promotion will be removed and the user banned. Final decision will be at the discretion of the Taipei Times.