A slippery security guard 一條看守名鞋的警衛蛇
A London department store was so worried someone might try to steal a luxury shoe, they hired a live cobra.
The slippery security guard was on duty for last Monday's launch of exclusive shoes. The shoe in the picture is one of a pair of sandals. They are made with rubies, sapphires and diamonds and cost £62,000 (NT$4.2 million). They were designed by Rene Caovilla.
Of course most people wouldn't hire a poisonous snake to guard shoes. But the store thought that it would make their shoes well known. In fact, although the shoes are still on display, the snake was only there for one day.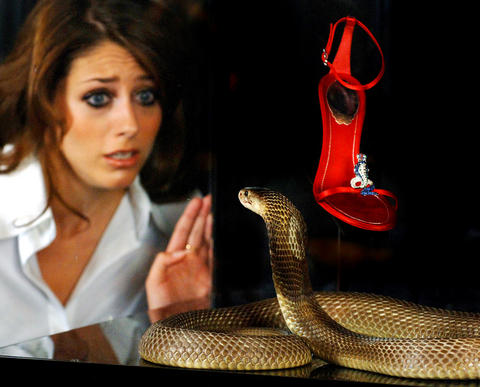 Harrods worker Maggie Bartram watches Cedric, a highly aggressive and deadly Egyptian cobra, guarding a Rene Caoville sandal, at Harrods department store in London, Sep. 10, 2007.Photo: AP 今年九月十日,Harrods百貨的專櫃小姐梅姬.芭蘭注視著名叫賽德里克的伊條具高度攻擊性與致命性的埃及眼鏡蛇。牠正在看守倫敦Harrods百貨公司內芮恩科維拉專櫃的一隻高級涼鞋。照片:美聯社
A spokeswoman for Harrods, the department store, said, "The snake has now been returned to its owner."
So no need to fear snake bites at the shoe counter, then.
"Not unless you're a burglar," said the spokeswoman, but she was only joking.(Staff writer with AFP)
倫敦有一間百貨公司因為擔心一只昂貴的高跟鞋會遭竊,因此請了一條活眼鏡蛇來看守這只鞋。
這條滑溜溜的警衛在上週一一場公開的高級名鞋發表會上執勤。右圖中這隻鞋是一雙高跟涼鞋的其中一隻,這雙鞋上鑲有紅寶石、藍寶石和鑽石,市價為六萬兩千英鎊(新台幣四百二十萬元)。是一雙出自義大利大師芮恩.科維拉之手的作品。
當然,多數人不會用一條毒蛇來防止鞋子被竊。但這間百貨公司認為這個噱頭能提高他們產品的知名度。事實上,雖然這些名牌鞋仍然在店內展示,但這條警衛蛇只待了一天。
Harrods百貨的女發言人說:「我們已經將這條眼鏡蛇歸還給牠的主人。」
因此,現在消費者在經過這間專櫃時,可以不用擔心會被蛇攻擊了。
「除非你是個小偷,」但這只是女發言人的玩笑話。
(法新社/翻譯:袁星塵)
Publication Notes
Today's Words 今日單字
1. luxury adj.
豪華的 (hao2 hua2 de5)
例: We enjoyed our stay in the luxury suite.
(我們很享受住宿在那間豪華套房。)
2. launch n.
上市 (shang4 shi4),發表 (fa1 biao3)
例: We were invited to the party for the CD launch.
(我們受邀參加一場唱片發表會。)
3. exclusive adj.
獨家的 (du2 jia1 de5)
例: The radio station is offering the exclusive chance to climb 101 with its breakfast DJ.
(這家廣播電台提供了一個獨家機會,讓民眾跟他們的早餐DJ一起爬台北101。)
Comments will be moderated. Keep comments relevant to the article. Remarks containing abusive and obscene language, personal attacks of any kind or promotion will be removed and the user banned. Final decision will be at the discretion of the Taipei Times.