Atta girl! 幹得好!女孩
Zoey, the dog shown in the picture, is a Chihuahua, but when a rattlesnake tried to bite her owners' 1-year-old grandson, she was a real bulldog.
Booker West was splashing his hands in a birdbath in his grandparents' backyard in northern Colorado, USA, when the snake slithered up to the toddler, rattled and struck. 2.3kg Zoey jumped in the way and took the bites.
"She got in between Booker and the snake, and that's when I heard her yipe," said Monty Long, the boy's grandfather said.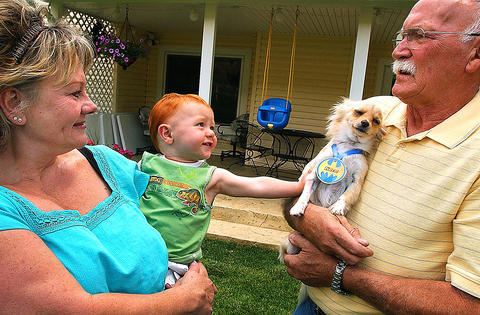 Denise Long holds her grandson, Booker West, 1, as he pets Zoey, held by Monty Long, in the backyard of their home near Masonville, Colorado, USA, in July 2007. 今年七月份,狄妮絲.隆抱著她一歲的孫子布克.魏斯特,布克則拍著祖父蒙提.隆懷裡的小狗柔依,在他們位於科羅拉多州北部,靠近梅森維爾的自宅後院裡。
PHOTO: AP
The dog had to go to the vet and for a time it seemed she might not live. Luckily she got better, and is now full of energy.
"These little bitty dogs, they just don't really get credit," Booker's grandma Denise Long told the Loveland Daily Reporter-Herald.
照片裡的柔依是一隻吉娃娃,當有響尾蛇想咬牠主人一歲大的孫子時,牠卻表現得像隻鬥牛犬。
布克.魏斯特在美國科羅拉多州北部祖父母家後院裡,把手伸進小鳥戲水用的水盆裡拍打。而那條蛇滑上他的身體,發出咻咻的響聲攻擊他。二點三公斤重的柔依突然跳到他們之間而因此被咬。
「牠就擋在布克和蛇之間,然後我就聽到了牠的慘叫聲。」小男孩的祖父蒙提.隆說。
小狗被送到了獸醫那裡,一度看起來像是撐不下去了。所幸牠漸入佳境,現在又變得活蹦亂跳了。
「這些小狗狗們真該受到表揚。」布克的祖母狄妮絲.隆對當地的《Loveland Daily Reporter-Herald》日報說。
(翻譯:張愛弟)
Publication Notes
TODAY'S WORDS 今日單字
1. rattlesnake n.
響尾蛇 (xiang2 wei3 she2)
例: Rattlesnakes are very dangerous.
(響尾蛇很危險。)
2. bulldog n.
鬥牛犬 (dou4 niu2 quan3)
例: My aunt has a bulldog. He's very brave.
(我阿姨有隻鬥牛犬,它很勇敢。)
3. slither v.t.
滑行 (hua2 xing2)
例: The eel slithered toward me.
(鰻魚朝著我溜過來。)
2. yipe interj.
驚恐聲 (jing1 kong3 sheng1)
例: I heard Michael yipe as he came across the snakehead fish.
(我聽見了麥可碰到蛇頭魚時的驚恐聲。)
Comments will be moderated. Keep comments relevant to the article. Remarks containing abusive and obscene language, personal attacks of any kind or promotion will be removed and the user banned. Final decision will be at the discretion of the Taipei Times.