It's not all smiles for China's toothless elderly 中國老人多缺牙 笑口難開
It is not all smiles for China's elderly, who have lost an average of 11 teeth after turning 65, a Chinese Health Ministry study showed.
The study said 7 percent of Chinese over 65 have no teeth left.
About 98.4 percent of Chinese elderly between 65 and 74 suffer from tooth decay, and nearly 92 percent of them do not receive treatment.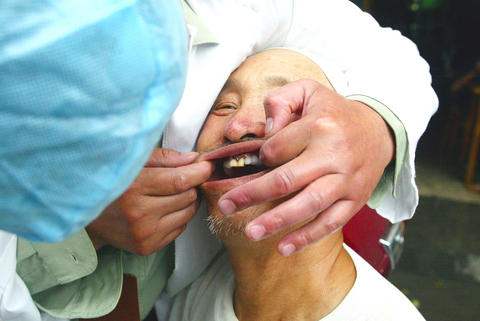 A rural dentist gives a dental checkup to a local farmer in the town of Xiaoyudong, Sichuan Province, China. 中國四川省小魚洞鎮的一名牙醫檢查當地農夫的牙齒。(照片︰美聯社)
PHOTO: AP
"As the Chinese population ages, dental health must not be neglected," said Qi Xiaoqiu, an official from the Health Ministry.
The survey showed that dental health was better for people who live in cities than for people in the countryside, and that women had better teeth than men.
Chinese people's dental health has not gotten much better even with China's quick economic growth, Qi said.
中國衛生部的研究指出,中國老年人並非全是笑口開懷,六十五歲後平均會掉十一顆牙齒。
這份研究指出,有7%的六十五歲以上老人牙齒全掉光了。
六十五到七十四歲的中國老年人中,有98.4%受蛀牙之苦,其中將近92%未接受治療。
中國衛生部官員齊小秋說︰「隨著中國人口老化,牙齒保健不容忽視。」
這份調查顯示,城市人的牙齒保健較鄉間人佳,女性也優於男性。
齊小秋說,雖然中國經濟發展快速,中國人的牙齒保健卻未跟上腳步。 (美聯社:翻譯︰賴美君)
Publication Notes
TODAY'S WORDS 今日單字
1. the elderly n.
長者 (zhang2 zhe3)
例: The elderly in Taiwan can be seen playing chess and practicing tai chi in the park.
(經常可見台灣老年人在公園裡下棋和打太極拳。)
2. tooth decay n.
蛀牙 (zhu4 ya2)
例: You have to brush your teeth often to prevent tooth decay.
(你必須時常刷牙來防止蛀牙。)
3. dental adj.
牙齒的 (ya2 chi3 de5)
例: In some countries, dental care is so expensive that most people don't see the dentist.
(部分國家的牙齒保健費用昂貴,所以大部分民眾都不去看牙。)
Comments will be moderated. Keep comments relevant to the article. Remarks containing abusive and obscene language, personal attacks of any kind or promotion will be removed and the user banned. Final decision will be at the discretion of the Taipei Times.