Taking it with a lick of salt 品鹽大會
Moose and reindeer at a Stockholm wildlife park have been invited to an unusual taste panel that will help decide which type of salt should be used to de-ice the country's roads in wintertime. When salt is spread on the roads the ice melts. This makes the road safe for cars to drive on.
The less the animals like the salt, the better.
The National Road Administration plans to introduce a new, sweeter blend of road salt, but wants to make sure it does not make wildlife come to Sweden's highways, project organizer Frida Hedin said Tuesday. Because animals like to lick the salt on the roads, many are killed every winter in car accidents. Of course, people are hurt in the accidents too.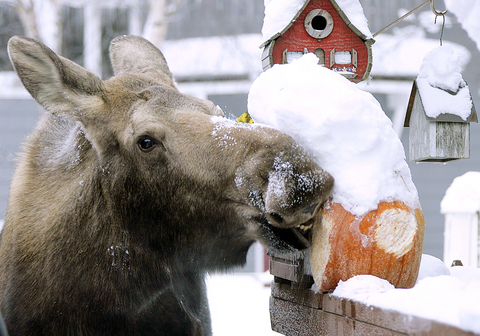 Curious muncher: A moose tries to eat a frozen pumpkin left over from Halloween at a home in Anchorage, Alaska, USA, Jan. 16, 2006. 去年一月十六日,美國阿拉斯加州安克拉治的一隻麋鹿試圖吃一戶人家在萬聖節所遺留下來的結霜南瓜。
PHOTO: AP
She said the 14 hooved panel members at Stockholm's Skansen open-air museum will be presented with two salt blocks — one with the new sugary flavor and another tasting like the road salt being used today.
The project is expected to start in about a week and last for around two months, Hedin said.
(catherine Thomas, staff writer with Ap)
斯德哥爾摩一處野生動物園的麋鹿與馴鹿,皆受邀參加一場特殊的評味蕾大會,來決定何種鹽巴該用在瑞典冬季道路冰融。道路一旦灑上鹽巴,冰就會融化,好讓駕駛平安開車。
動物愈不愛的鹽巴愈好。
策劃者芙烈達.海登週二表示,國家道路局計畫引進更新更甜的道路用鹽,但希望別吸引野生動物上路。
由於動物喜歡舔道路上的鹽,每年冬季都有許多動物因車禍喪生。當然,人們也會在這些車禍中受傷。
她說,斯德哥爾摩斯堪森露天博物館的十四位鹿角評審團成員,將會對兩堆鹽巴進行品評,一種是新的甜味鹽,另一種的味道和現今道路用鹽差不多。
海登說,這項計畫預計在一週後展開,約持續兩個月。 (翻譯︰賴美君)
Publication Notes
TODAY'S WORDS 今日單字
1. wildlife n.
野生生物 (ye3 sheng1 sheng1 wu4)
例: You should always clean up your trash after a picnic to avoid harming the local wildlife.
(每回野餐過後你應該清理垃圾,避免傷害當地的野生生物。)
2. panel n.
陪審團 (pei2 shen3 tuan2),評審團 (ping2 shen3 tuan2)
例: There were two boys and three girls on the panel judging the talent contest.
(才藝競賽的評審團由兩位男生與三位女生組成。)
3. expect v.t.
預期 (yu4 qi2)
例: If you don't expect gifts then you won't be disappointed if you don't get any.
(假若你對禮物不抱期待,收不到禮物時你就不會感到失望。)
Comments will be moderated. Keep comments relevant to the article. Remarks containing abusive and obscene language, personal attacks of any kind or promotion will be removed and the user banned. Final decision will be at the discretion of the Taipei Times.