Globe trotting: Indonesia 世界走透透 - 印尼
The fourth most populous country in the world, home of beautiful islands such as Bali, and a model for ethnic and religious diversity. Come take a closer look at Indonesia, where the motto is "unity in diversity."
印尼是全球人口第四密集的國家,擁有如巴里島等美麗島嶼,是多元種族和宗教的典範。一起深入了解信奉「異中求同」的印尼。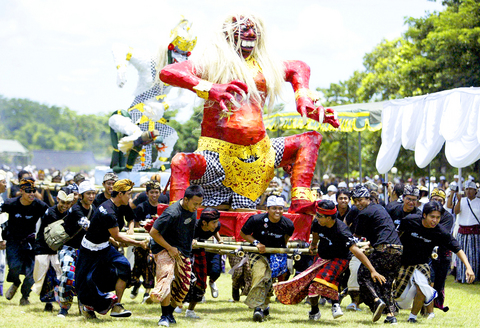 Indonesian Hindus carry effigies symbolising evil during a ritual at the Prambanan temple in Java, Indonesia, Mar. 18, 2007.今年3月18日,印尼印度教徒在爪哇普蘭巴南寺的一項儀式中扛著象徵邪惡勢力的神像。 (毆新社)
PHOTO: EPA
A closer look 說古論今
Indonesia is the world's largest archipelagic state, with 17,508 islands, of which nearly 6,000 are inhabited. Most people live on the five largest islands in the archipelago. The islands are mountainous and Indonesia has numerous volcanoes. Frequent earthquakes strike Indonesia, but the volcanic ash helps make the soil rich for crops.
People arrived in the area at least half a million years ago. They perfected rice planting, which allowed villages and even small kingdoms to develop.
By the first century, Indonesia was a trading post between India and China. This trade brought both Buddhism and Hinduism. Powerful naval kingdoms with large fleets of ships spread throughout the islands.
Muslim traders brought Islam to Indonesia in the 1200s. It spread quickly and peacefully along trade routes and was the main religion by the 1500s.
The Portuguese arrived in 1512, and shortly thereafter the Dutch were the main European presence. This situation did not change until the Japanese occupation during World War II. Immediately after the Japanese left, the Indonesians declared independence.
Since then, Indonesia has had to deal both with political instability and authoritarian leadership, but major progress has been made and Indonesia now holds direct elections.
China, India, Arabs, Europe and Malaysia have heavily influenced Indonesian culture. Food differs significantly across regions, though rice is the staple dish in most places. Spices and coconut milk are important ingredients, and chicken and fish are commonly eaten.(Jason Cox, staff writer)
印尼是世界上最大的群島國家,共有一萬七千五百零八個島嶼,當中約有六千個無人島,多數人居住
在群島中的五大島嶼上,島上多山脈,且火山數量多
,因此地震頻傳,但火山灰讓土壤肥沃,適合栽種作物。
至少在五十萬年前就有居民來此,他們精化了稻米耕作,讓村落甚至小國得以發展。
到了一世紀,印尼成為印度和中國間交易的中介站,因而帶入了佛教和印度教,擁有龐大艦隊的海上強國,勢力擴及所有島嶼。
穆斯林商人在十三世紀將伊斯蘭教帶入印尼,並且迅速平和地隨著商業路線擴及各地,在十六世紀成為主要宗教。
葡萄牙人於一五一二年抵達,不久之後,荷蘭便成為歐洲在印尼的主要勢力,這個情況一直到二次世界大戰被日本佔領才改變,印尼在日本撤離後旋即宣布獨立。
印尼自此被極權統治,政局動盪不安,然而經過大幅改革,印尼現在已舉行直接選舉。
印尼文化深受中國、印度、阿拉伯、歐洲和馬來西亞深遠的影響,各區飲食顯著不同,不過米飯仍是多數區域的主食,香料和椰奶是重要的食材,民眾普遍食用雞肉和魚肉。 (翻譯:鄭湘儀)
Publication Notes
About Indonesia 國家概況
Size: 1,904,5689 km2, about 53 times larger than Taiwan
Location: Southeast Asia
Border countries: East Timor, Malaysia, Papua New Guinea
Capital: Jakarta
Population: about 222,781,000
Languages: Indonesian
Government: Presidential Republic
Currency: NT$1 = 276 Indonesian Rupiahs
面積:一千九百零四萬五千六百八十九平方公里,約比台灣大五十三倍
位置:東南亞
鄰國:東帝汶、馬來西亞、巴布亞紐幾內亞
首都:雅加達
人口:約兩億兩千兩百七十八萬一千人
語言:印尼語
政府:總統制/民主共和
貨幣:新台幣一元等於兩百七十六印尼盾
Comments will be moderated. Keep comments relevant to the article. Remarks containing abusive and obscene language, personal attacks of any kind or promotion will be removed and the user banned. Final decision will be at the discretion of the Taipei Times.