Carnival in Switzerland 瑞士嘉年華
The Basel Carnival is the biggest carnival in Switzerland, and it takes place once a year between the months of February and March.
The carnival begins in the Swiss town of Basel on the Monday after Ash Wednesday. The beginning of the carnival is called the Morgestraich, and it starts at 4am on that Monday morning. All of the lights in the town are turned off, so the only light comes from the lanterns that people carry down the streets.
The carnival lasts for 72 hours and is sometimes called "the three most beautiful days."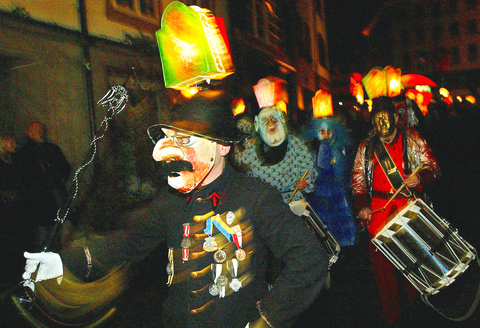 Masked people attending the Morgenstreich at the beginning of the Basel carnival. 戴面具的民眾參加巴塞爾嘉年華會的序曲「晨鬧」。 (照片:法新社)
PHOTO: AFP
During these three days, people dress up in costumes and wear masks. The masks can be of famous people, animals, or just funny characters. Two parades take place — one on Monday and one on Wednesday. They also throw a lot of confetti during this carnival. Some people even think that the use of confetti started here.
(Emily Shih, Staff Writer)
巴塞爾嘉年華是瑞士最大的嘉年華會,於每年二至三月舉行。
瑞士巴塞爾嘉年華會於聖灰星期三之後的週一展開。嘉年華在週一凌晨四點的「晨鬧」(Morgestraich)揭開序幕。鎮內所有燈火都會熄滅,民眾在街頭所提的燈籠是唯一光源。(註︰聖灰星期三是四旬齋﹛lent﹜的頭一天,而四旬齋約為復活前四十天。)
這場嘉年華會歷時七十二小時,有時被譽為「最美麗的三天」。
這三天期間,民眾會精心裝扮並戴上面具,面具可以是名人、動物或有趣的角色。有兩場遊行將舉行,一場在週一,另一場在週三。他們也會在嘉年華期間揮灑許多五彩紙片。有些人甚至認為這是揮灑五彩紙片的由來。 (翻譯:賴美君)
Publication Notes
Today's Words 今天單字
1. carnival n.
嘉年華會 (jia1 nian2 hua2 hui4)
例: Every year my parents take me to the carnival for a treat.
(我父母每年都帶我參加嘉年華會做為犒賞。)
2. mask n.
面具 (mian4 ju4)
例: For Halloween I wore a monster mask and it scared a lot of children.
(我在萬聖節戴上怪獸面具,嚇壞了許多小朋友。)
3. confetti n.
五彩紙片 (wu2 cai3 zhi3 pian4)
例: We should get a lot of confetti for Sarah's surprise party; we can throw it in the air when she walks in.
(為了莎拉的驚喜派對,我們應該準備許多五彩紙片。當她走進來時,我們可以在空中揮灑五彩紙片。)
Comments will be moderated. Keep comments relevant to the article. Remarks containing abusive and obscene language, personal attacks of any kind or promotion will be removed and the user banned. Final decision will be at the discretion of the Taipei Times.