Golden Horse Awards could face ban
UNSCRIPTED? A Hong Kong paper reported a possible Chinese ban, but one leading movie figure dismissed the idea and the awards committee said it had not heard of it
A controversy that erupted at Saturday night's Golden Horse Awards ceremony shows no signs of ending as the Chinese-language Apple Daily's Hong Kong edition yesterday reported that Chinese companies have been banned from entering films coproduced with Taiwanese firms in Golden Horse events.
The paper said the directive came from the Chinese Communist Party's publicity department in the wake of Taiwanese director Fu Yue (傅榆) saying during her acceptance speech for best documentary for Our Youth in Taiwan (我們的青春,在台灣) that her greatest wish was that one day Taiwan "can be treated as a truly independent entity."
Asked to confirm the report, the Golden Horse Awards executive committee said: "We have not heard about this. Applications for next year's Golden Horse Awards begin in June."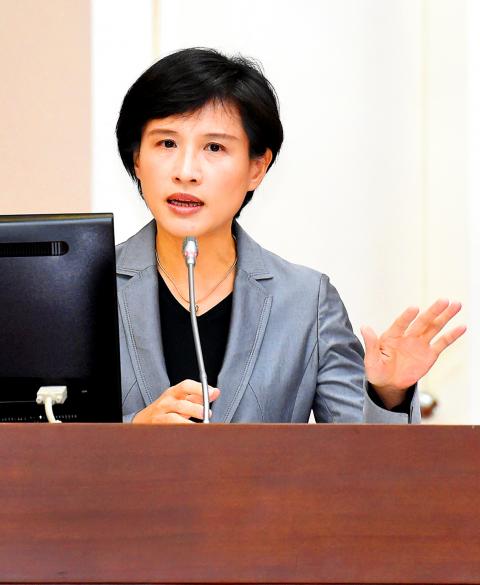 Minister of Culture Cheng Li-chiun answers questions from legislators at a meeting of the Legislative Yuan's Education and Culture Committee in Taipei yesterday.
Photo: Chu Pei-hsiung, Taipei Times
The Cross-Strait Films Exchange Committee said it had not "heard of or received any information" about a Chinese movie boycott.
An unnamed leading figure in the movie industry, who claimed to have telephoned a senior official at China's State Administration of Press, Publication, Radio, Film and Television, said the matter was "absolutely non-existent" and asked: "Why does Taiwan have so much fake news?"
Chinese actor Tu Men (涂們), one of the presenters, later said he was honored to present an award in "China, Taiwan" and that "both sides are like family."
Chinese director Zhang Yimou (張藝謀), who won the Best Director Award for Shadow (影), said the movies nominated for the Golden Horse were "Chinese movies" and represented the hopes of the Chinese film industry.
However, Minister of Culture Cheng Li-chiun (鄭麗君) yesterday told reporters that while Taiwan welcomed the inclusion of Chinese-language films from outside the nation at the awards, it expected participants to show respect for the people of Taiwan.
"This is Taiwan, not 'Taiwan, China,'" she said, reiterating her Facebook post on Sunday.
Talking to reporters on the sidelines of a meeting of the legislature's Education and Culture Committee, Cheng said Taiwan is a democracy and embraces cultural diversification.
That means all Chinese-language movies, including those in China, are welcome to enter the Golden Horse Awards, she said.
Some Chinese celebrities had disrespected and hurt the feelings of Taiwanese with their comments at Saturday's ceremony, Cheng said.
Perhaps the Chinese celebrities were forced to take a stance or had made the comments for some other reason, but they need to show respect for the Golden Horse Awards, which honors creative freedom, she added.
Democratic Progressive Party Legislator Huang Kuo-shu (黃國書) expressed concern at the legislative meeting that China might not participate in the awards again because of the controversy.
Cheng told Huang that she could not comment on China's policy, but from Taiwan's perspective, Chinese films were welcome.
"We sincerely welcome all Chinese-language movies, as we have been doing," Cheng said. "We hope the Chinese government will relax its grip on its film industry and respect its celebrities."
Additional reporting by Wu Wan-ting
Comments will be moderated. Keep comments relevant to the article. Remarks containing abusive and obscene language, personal attacks of any kind or promotion will be removed and the user banned. Final decision will be at the discretion of the Taipei Times.