Mid-Autumn Festival barbecues could become history
The Taipei City Government is mulling enforcing a ban on barbecuing at riverside parks and other public sites, but would not do so until it has held more discussions on the issue or conducted an online poll.
While barbecuing has become a tradition for the Mid-Autumn Festival in Taiwan in recent years, city regulations ban barbecuing in city parks or on public lawns.
The city government has issued notices about designated barbecue sites in riverside parks ahead of the holiday for more than a decade, but did not do so this year.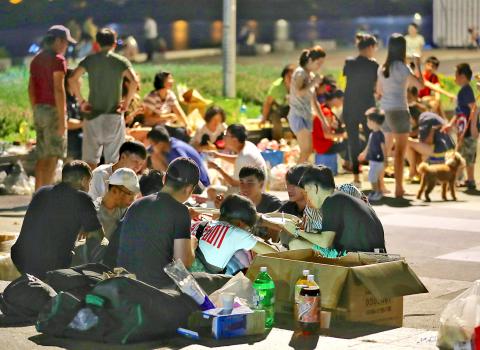 Taipei residents picnic and barbecue at one of the city's designated riverside park barbecue sites on Sunday night.
Photo: CNA
Instead it only posted a notice on Thursday on the Hydraulic Engineering Office's Frequently Asked Questions Web site, which stated that barbecuing would be allowed in 19 areas, including seven that are open for barbecues year-round and 12 areas where it would be allowed over the Mid-Autumn Festival holiday weekend.
The office yesterday said that it had decided not to widely publicize the announcement this year.
Since the decision was made 10 years ago to open up designated areas in riverside parks for Mid-Autumn Festival barbecues, picnickers in the parks often failed to clean-up after themselves and remove their garbage, the office said.
It had to increase the number of personnel on duty during the festival to persuade people to stay within the designated areas and clean up afterward, it said.
Considering the negative impact of PM2.5 pollution — particulate matter with a diameter of 2.5 micrometers or less — on health and riverside ecology, and the city's carbon reduction goals, the office it has been considering whether to continue opening riverside parks to holiday barbecues, it said.
It is to work on reducing the number of areas where barbecues are allowed or even imposing a total ban, but more discussion is needed, and it might ask city residents to decide through the online i-Voting system, the office said.
Additional reporting by CNA
Comments will be moderated. Keep comments relevant to the article. Remarks containing abusive and obscene language, personal attacks of any kind or promotion will be removed and the user banned. Final decision will be at the discretion of the Taipei Times.