Brisbane Bandits mull forming team in Taiwan
Brisbane Bandits owner Mark Ready said that the Australian Baseball League (ABL) team is planning to establish a professional baseball team in Taiwan to play in the Chinese Professional Baseball League (CPBL).
Baseball Australia chief executive officer Cam Vale in February told CPBL commissioner John Wu (吳志揚) that he hopes the CPBL board of directors would accept a proposal, which was then said to be submitted in May, for an ABL team to play in the CPBL's B league.
The CPBL has yet to receive such a proposal.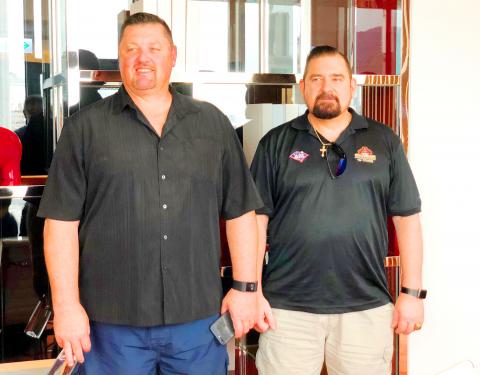 Brisbane Bandits owner Mark Ready, right, and Bandits coach David Nilsson pose for a photograph in Taipei yesterday.
Photo: CNA
More teams are needed to increase audience numbers, Ready said yesterday in Taipei, adding that the number of ABL teams would soon increase to eight with the addition of a New Zealand team and a South Korean team.
With nearly equal populations, and a similar player base in professional baseball teams and international ranking, collaboration between the two leagues could help grow audience numbers in both nations, he said.
It would also allow ABL players, who only play three to four months during the baseball season, to find additional opportunities to train during the off-season, Ready said.
"We are still looking for training bases, but we are planning to establish our 'farm team' in southern Taiwan," he said.
Yearly expenses are estimated to reach NT$100 million (US$3.3 million), and although the team would benefit from Australian government subsidies, it would look for potential investors in Taiwan, Ready said.
The team would not make any money playing baseball in Taiwan, but doing so would allow it to spread further into Asia, he said, adding: "That's a cost we are ready to accept."
The team is ready to start playing against Taiwanese farm teams, both to familiarize itself with the environment and to scout for potential Taiwanese talent, Ready said, but added that the details of what constitutes a farm team and roster players are still being worked out.
It is up to the CPBL when and under what conditions to allow the team in, he said.
Ready said the ABL hopes that the CPBL would reciprocate by establishing a team in the ABL, adding that should a Taiwanese team wish to play in the ABL season starting late next year, it should finalize its submission before June next year.
"We do not mind amateur teams," Ready said, adding that the ABL has even suggested that the CPBL could establish a team from players who had not been drafted.
The CPBL has yet to give a definitive answer, Ready said.
The collaboration would help promote baseball, which is not very popular in Australia, Bandits coach David Nilsson said.
Ready said he is still in talks with broadcasting companies on who would have the exclusive broadcasting rights for all 20 of the Bandits' playoff games this year.
This is due to increased viewership of ABL games by Taiwanese, in no part sparked by the Bandits signing of former Brothers Baseball Club player Lin Chih-sheng (林智勝, also known as Ngayaw Ake), and former Fubon Guardians player Chen Hung-wen (陳鴻文), Ready said.
Comments will be moderated. Keep comments relevant to the article. Remarks containing abusive and obscene language, personal attacks of any kind or promotion will be removed and the user banned. Final decision will be at the discretion of the Taipei Times.