Ministry pans China over interference
LETTER OF DEMANDS: Beijing has warned two US air carriers against referring to Taiwan as a nation, saying it would refer them to authorities if they did not comply
The Ministry of Foreign Affairs has strongly condemned the Chinese Ministry of Foreign Affairs' "overbearing use of political power" to coarsely interfere with the behavior of private businesses and the operations of international corporations, ministry spokesperson Andrew Lee (李憲章) said in Taipei yesterday.
The statement came in response to a report that China warned US airlines against referring to Taiwan as an independent nation.
"The Civil Aviation Administration of China has sent a letter to United Airlines and American Airlines demanding that their global operations follow China's restrictions against 'separatism,' meaning that any references to Taiwan, Hong Kong and Macau as countries independent from China must be removed," Washington-based Foreign Policy magazine reported on Friday. "The strongly worded letter demands that all public-facing content, across the world, must follow 'Chinese law.'"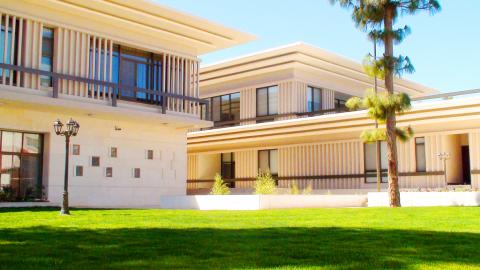 Taiwan's representative office in Jordan, right, is pictured on March 31, 2013.
Photo: CNA
"It gives the airlines a set timeline to comply with the demands, threatening that if not obeyed, the matter will be referred to 'the relevant cybersecurity authorities' for punishment," it added, citing a source with access to the letter.
Lee said the ministry is greatly concerned about the matter and has asked its offices in the US to verify the matter with the airlines.
It has also asked the offices to reiterate the government's position, ask the airlines to handle the situation appropriately and urge them not to degrade Taiwan or damage the Republic of China's (ROC) sovereignty and dignity due to Beijing's threat, Lee said.
The ROC is an independent and sovereign nation, Lee added.
Taiwan's achievements, including the development of democracy, freedom, human rights and the rule of law, have received recognition from the international community, Lee said.
No matter what measures Beijing takes, threatening foreign businesses to submit to its false claims would not only fail to change the objective fact, but also increase Taiwanese's aversion toward the Chinese government, he said.
Separately yesterday, the ministry said that Jordan has asked Taiwan to change the name of its representative office in its capital, Amman, citing pressure from China.
As a result, the name of the office would soon be changed from the "Commercial Office of the Republic of China (Taiwan)" to the "Taipei Economic and Cultural Office," Lee said.
While the name change is a blow to Taiwan's international image, the office would continue to function as usual and promote bilateral exchanges and cooperation in the areas of culture, academia and trade, he said.
The request by Jordan was not surprising, as Beijing had been pressuring Jordan on the issue since last year, Lee said.
Comments will be moderated. Keep comments relevant to the article. Remarks containing abusive and obscene language, personal attacks of any kind or promotion will be removed and the user banned. Final decision will be at the discretion of the Taipei Times.