Probe started over collapsed buildings
NEGLIGENCE: Developers, architects and contractors involved in the damaged buildings' construction are to be subpoenaed once rescue efforts are completed
Hualien prosecutors have launched a probe into possible negligence in the construction of four buildings that collapsed or tilted during an earthquake that struck the city late on Tuesday, killing at least seven people and injuring 260.
Hualien Chief Prosecutor Huang Ho-chun (黃和村) has instructed officials to obtain the buildings' blueprints, documents and data files submitted by construction companies to the Hualien County Government for the initial phase of the investigation.
The probe is to focus on the Marshal Hotel (統帥大飯店), the Yun Men Tsui Ti (雲門翠堤大樓) commercial and residential complex and two partially collapsed residential buildings on Hualien's Guosheng 6th street, where the efforts to find survivors have concentrated.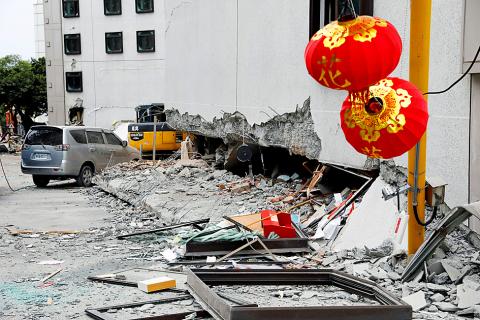 Debris litters the ground outside the Marshal Hotel yesterday after an earthquake hit Hualien on Tuesday.
Photo: Tyrone Siu, Reuters
"After the rescue efforts are completed, we will subpoena the constructors, the architects and the contractors [involved in the construction of the four buildings] for questioning," Huang said.
Prosecutors would conduct a thorough investigation to determine if there was negligence or infractions — such as taking shortcuts during construction, using inferior building materials or failing to comply with construction regulations or acquire government approval — that might have led to the buildings' collapse, Huang said.
Taiwan High Prosecutors' Office Chief Prosecutor Wang Tien-sheng (王添盛) said he contacted Huang to provide assistance in gathering evidence at the four buildings as part of the initial phase of investigation, adding that prosecutors in nearby districts can be dispatched to Hualien to join the investigation.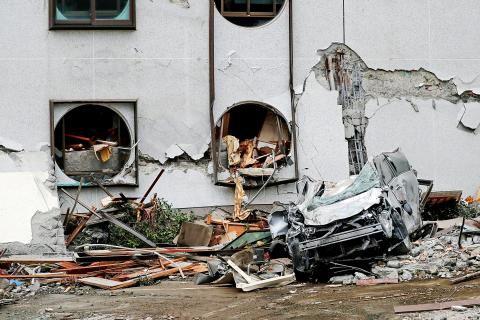 Wreckage of a car yesterday lies outside the damaged Marshal Hotel after an earthquake hit Hualien on Tuesday night.
Photo: Tyrone Siu, Reuters
Taipei prosecutors also announced that they would provide support in technical and legal issues.
"In our Taipei office, we have 11 prosecutors with professional background and expertise in civil engineering and construction. They have been put on alert and will be dispatched to Hualien to provide support for the investigation into possible negligence and the legal responsibilities regarding the buildings' collapse," Taipei District Prosecutors' Office spokesman Chou Shih-yu (周士榆) said.
Tai Yun-fa (戴雲發), head of a construction safety association, said the Yun Men Tsui Ti and the hotel were susceptible to earthquake damage because they had too few reinforced pillars at the lower levels, causing them to be "heavy at the top, but weak at the bottom."
The original designs for the two buildings were likely flawed in terms of pillar support at lower levels and were not designed to resist a strong earthquake, as they were built before 1999, when a more comprehensive and strict building code came into effect, and no reinforcements had been made since, Tai said.
Comments will be moderated. Keep comments relevant to the article. Remarks containing abusive and obscene language, personal attacks of any kind or promotion will be removed and the user banned. Final decision will be at the discretion of the Taipei Times.