Presidential Office thanks US for notice on US strategy
The Presidential Office yesterday thanked the US for briefing Taiwan in advance on its latest National Security Strategy report and for reiterating its commitment to the Taiwan Relations Act in the document.
US President Donald Trump's administration unveiled the report on Monday morning in Washington, mentioning Taiwan in its section on the Indo-Pacific region.
Presidential Office spokesman Sidney Lin (林鶴明) said that the US briefed Taiwan on the report in Taipei on Monday afternoon.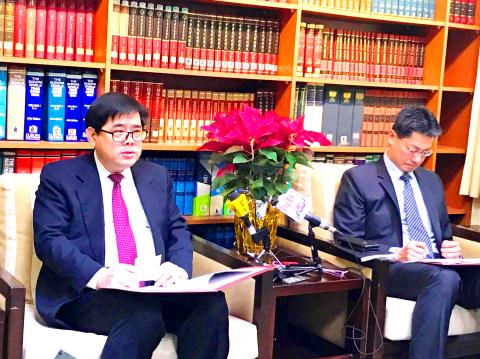 Remus Chen, director-general of the Ministry of Foreign Affairs' Department of North American Affairs, left, talks to reporters in Taipei yesterday about the first "National Security Strategy" of US President Donald Trump's administration, which was released on Monday.
Photo: Peng Wan-hsin, Taipei Times
The guiding principles outlined in the US report as part of a strategy to bring about a free and open Indo-Pacific region, including promotion of free and fair trade and joining forces with its allies to deter threats, are "in line with our policy to pursue peace and stability in the region," Lin said.
"We thanked the US for its prior briefing and its firm commitment to the Taiwan Relations Act," he said.
As a member of the international community, Taiwan is committed to deepening cooperation and relationships with regional partners to contribute to the peace, stability and welfare of the region, Lin added.
The Ministry of Foreign Affairs expressed optimism about future Taiwan-US relations, saying the reference to the Taiwan Relations Act shows that Trump realizes the strategic importance of Taiwan in the Asia-Pacific region.
The government has paid close attention to and is highly interested in Trump's "Indo-Pacific" strategy, which was proposed by the US president during his first trip to Asia last month, Department of North American Affairs Director-General Remus Chen (陳立國) said.
"We will continue to seek to understand what policies the US plans to adopt to carry out the initiative. We also hope to strengthen bilateral cooperation with Washington on various aspects under this new strategic framework," Chen said.
Asked what role Taiwan could play in Trump's Indo-Pacific strategy, Chen said that although the government is still conducting evaluations, it would not sit on the sidelines.
"Taiwan is situated in a coveted strategic location in East Asia and has consistently contributed to the maintenance of regional peace. As one of the stakeholders, it is impossible for us to sit on the sidelines when a major regional strategy is being formed," he said.
Comments will be moderated. Keep comments relevant to the article. Remarks containing abusive and obscene language, personal attacks of any kind or promotion will be removed and the user banned. Final decision will be at the discretion of the Taipei Times.