China's new era opens up a chance for change: Tsai
President Tsai Ing-wen (蔡英文) yesterday said the conclusion of the Chinese Communist Party's (CCP) 19th National Congress signals a new era of governance and a chance for change, and called for the ruling parties on both sides of the Taiwan Strait to set aside the baggage of history and engage in positive dialogue.
"China's ruling party just concluded its national congress, entering a whole new phase of governance," Tsai told a public forum in Taipei organized by the Mainland Affairs Council to mark the 30th anniversary of the beginning of cross-strait exchanges.
"Now is an opportunity for change," Tsai said, adding that Taipei and Beijing should work together to seek a breakthrough in their ties, create long-lasting benefits for their peoples and permanently defuse cross-strait hostility and people's fear of war.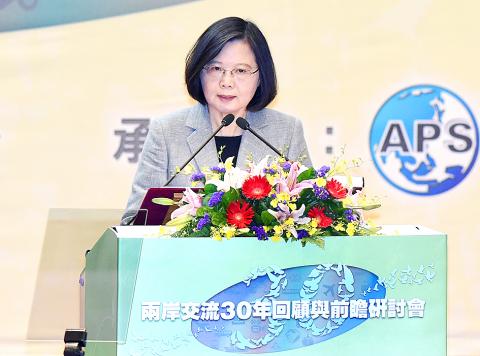 President Tsai Ing-wen yesterday speaks at a public forum organized by the Mainland Affairs Council in Taipei to mark the 30th anniversary of cross-strait exchanges.
Photo: Liao Chen-huei, Taipei Times
The president's remarks were widely seen as a direct response to Chinese President Xi Jinping's (習近平) work report on Taiwan at the congress.
Xi reiterated his "six anys," which he first described last year as meaning that China "will not permit any person, any organization or any political party at any time, using any means to tear any part of Chinese territory away from the country."
He said that Beijing has the resolve, confidence and ability to defeat separatist attempts for Taiwanese independence.
It was the first time Tsai talked about her cross-strait policy since the congress began on Wednesday last week.
The congress ended on Tuesday without an apparent successor to Xi being named, although customary practice dictates that he is to step down as president in 2022.
Tsai also talked about the cause of the cross-strait deadlock, which is due to her administration's continued refusal to acknowledge the so-called "1992 consensus."
However, she neither changed her stance on the framework, nor used new rhetoric.
In 1992, our side and the other side of the Taiwan Strait conducted what was known as the Hong Kong talks, paving the way for the institutionalization of cross-strait negotiations, including the two closely watched Koo-Wang talks in the 1990s and 23 agreements inked by the two sides from 2008 to last year," Tsai said, referring to two historical meetings between then-Straits Exchange Foundation chairman Koo Chen-fu (辜振甫) and Wang Daohan (汪道涵), then-chairman of China's Association for Relations Across the Taiwan Straits, in Singapore in 1993 and Shanghai in 1998.
The 1993 meeting was the first official contact between Taiwan and China since the Chinese Nationalist Party's (KMT) retreat in 1949 to Taiwan.
The Democratic Progressive Party (DPP) administration not only "respects this historical fact," but it has also "unconditionally accepted" all cross-strait agreements that have been signed into law, Tsai said.
The "1992 consensus," a term former Mainland Affairs Council chairman Su Chi (蘇起) in 2006 admitted making up in 2000, refers to a tacit understanding between the CCP and the KMT that both sides of the Taiwan Strait acknowledge there is "one China," which each side having its own interpretation of what "China" means.
However, the CCP has never acknowledged the "different interpretations" part and has only mentioned the "one China" element in its references to the "1992 consensus."
"As we commemorate the 30th anniversary of the beginning of cross-strait exchanges, we hope to see further improvement in cross-strait ties, although they are basically stable at the moment," Tsai said, referring to Taiwan in 1987 lifting a ban on veterans visiting China.
"Even though cross-strait relations still face uncertainty, maintaining peace, stability and development across the Taiwan Strait is the highest consensus," she said.
Comments will be moderated. Keep comments relevant to the article. Remarks containing abusive and obscene language, personal attacks of any kind or promotion will be removed and the user banned. Final decision will be at the discretion of the Taipei Times.