Serbian mayor dies eating lunch in Yilan after passing out
A Serbian mayor visiting Taiwan died after loosing conciousness during lunch at a restaurant in Yilan yesterday.
According to local media reports, the mayor, whose name was not officially disclosed for privacy reasons, was having lunch at Luna Plaza at about noon when he collapsed.
Despite being immediately taken to the National Yang Ming University Hospital, doctors were unable to revive the man and he was pronounced dead at 1:25pm.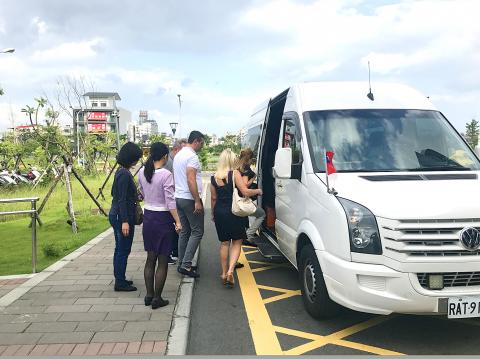 The colleagues of the Serbian mayor who died yesterday in Yilan, get into a van with Taiwanese diplomatic personnel after helping to confirm the mayor's death with the police in Yilan yesterday.
Photo: Lin Ching-lun, Taipei Times
The Chinese-language Liberty Times (the Taipei Times' sister paper) quoted an anonymous source as saying that the mayor collapsed after taking a bite of bread.
An autopsy will not be performed unless the mayor's family has doubts about his cause of death, the source said.
The Ministry of Foreign Affairs issued a statement confirming that a member of a Serbian economic development delegation died while visiting Yilan, without revealing the official's identity.
"The ministry expresses our deepest regret over this unfortunate accident," the ministry said, adding that it has sent officials to Serbia to provide necessary assistance and instructed the Taipei Representative Office in Budapest, Hungary, to offer the deceased's family its assistance.
Comments will be moderated. Keep comments relevant to the article. Remarks containing abusive and obscene language, personal attacks of any kind or promotion will be removed and the user banned. Final decision will be at the discretion of the Taipei Times.