Music fest organizer says it is not a shell company
PHARMACY? Mu Chieh Ta Co said it is common practice for companies to use another business entity's address, while Ko Wen-je denied any knowledge of the matter
Mu Chieh Ta Co (幕婕塔), the main organizer of the controversial "Sing! China: Shanghai-Taipei Music Festival," yesterday denied allegations that it is a shell company, saying it did not break the law by using another business entity's venue as its address.
The music event at National Taiwan University's athletic field on Sunday was called off two hours after it started amid protests by students about the way the school was referred to in promotional posters (Taipei City Taiwan University), students' rights to use the facility and damage to the field by the event.
The controversy mounted on reports that several students were attacked by members of the Chinese Unity Promotion Party.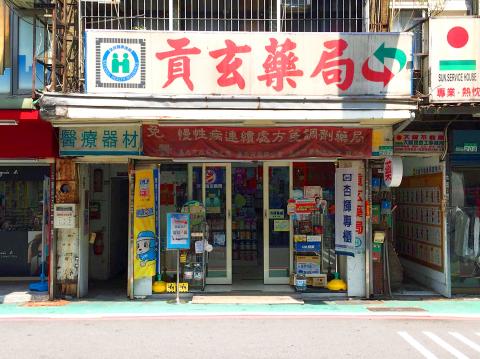 A pharmacy is pictured yesterday at the registered address of Mu Chieh Ta Co, the main organizer of the controversial Sing! China: Shanghai-Taipei Music Festival, in Taipei's Zhongshan District.
Photo: Chou Yen-yu, Taipei Times
A netizen posted on Professional Technology Temple (PTT) — the nation's largest online academic bulletin board — that Mu Chieh Ta is a shell company, as its registered address is occupied by a pharmacy.
According to the government's transparency Web site data.gov.tw, Mu Chieh Ta's registered address is 1F, 207 Jinzhou St, Zhongshan District (中山), Taipei.
There is a pharmacy at that address.
The company has capital of NT$20 million (US$661,900) and its person in charge is Lin Po-chih (林博治), official documents showed.
In response, Mu Chieh Ta said that it has an office in Taipei's Daan District (大安), which is registered as the official address of another commercial entity.
"There is nothing illegal about it. Many companies do the same thing," Mu Chien Ta said.
When asked for comment, Taipei Mayor Ko Wen-je (柯文哲) said: "We do not know anything about this."
"The Taipei City Government has thousands of industry partners for its activities every year. If somebody makes a big deal out of this, how are we supposed get anything done?" he added.
Taipei Office of Commerce official Fan Kuo-tun (范國敦) said it is not against the law for a company to operate from a location other than the one where it is registered.
In related news, Taipei Construction Management Office spokesman Horng Der-haur (洪德豪) said the organizer failed to inform the city government when it completed the stage for the event.
As a result, the structure missed a mandated inspection and Mu Chieh Ta was notified on Monday that it is being fined NT$13,840 for violating Article 86 of the Building Act (建築法), Horng said.
Taipei Labor Inspection Office official Chiang Ming-chih (江明志) said the office did not receive the blueprint or paperwork for the stage until yesterday morning, by which time the stage had been dismantled.
"As such, it is not possible or necessary for this office to perform any inspections," Chiang said.
Additional reporting by Chang Po-ting
Comments will be moderated. Keep comments relevant to the article. Remarks containing abusive and obscene language, personal attacks of any kind or promotion will be removed and the user banned. Final decision will be at the discretion of the Taipei Times.