Reshuffle boosts Tsai's approval rating
HIGH EXPECTATIONS: The latest monthly poll conducted by the Taiwanese Public Opinion Foundation found 69 percent of respondents approved of the Cabinet change
President Tsai Ing-wen's (蔡英文) approval rating has risen by 16.6 percentage points to 46.4 percent following the Cabinet reshuffle, a rare comeback considering her rating had been below 30 percent.
The Taiwanese Public Opinion Foundation's latest monthly poll, released yesterday, found that Tsai's approval rating has rebounded from 29.8 percent last month to 46.4 percent this month, while her disapproval rating fell from 50 percent to 36.4 percent.
The reversal is attributed to the Sept. 8 Cabinet reshuffle by Premier William Lai (賴清德), following former premier Lin Chuan's (林全) resignation.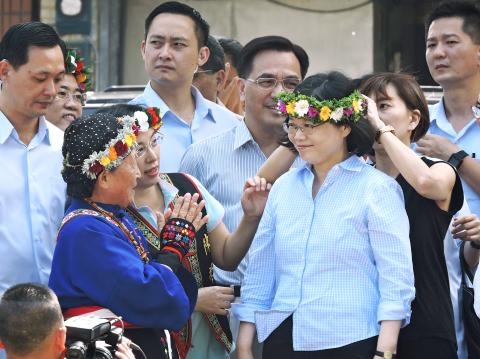 President Tsai Ing-wen, right, receives a hair wreath from Puyuma Aborigines in Taitung County yesterday.
Photo: Chang Tsun-wei, Taipei Times
"About 20 percent of disappointed supporters have turned around as they realized that Tsai Ing-wen, rather than being incurably stubborn and incapable, could still make wise decisions at critical moments," foundation chairman You Ying-lung (游盈隆) said.
The reshuffle was approved by 69 percent of respondents, while 17.5 percent disapproved.
Lai is one of the most popular politicians in the nation, having scored 63.44 on the "feeling thermometer," which is gauged between zero and 100, compared with Tsai's 59.67 and former president Ma Ying-jeou's (馬英九) 57.6 when Tsai and Ma were running in the 2012 presidential election.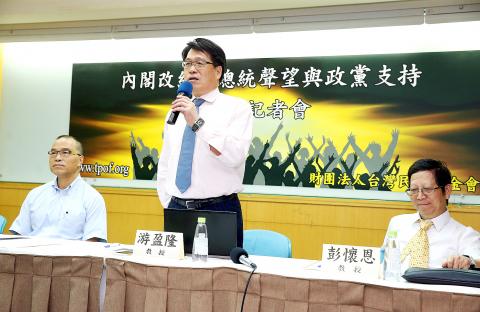 Taiwanese Public Opinion Foundation chairman You Ying-lung, center, speaks at a news conference in Taipei yesterday about the results of the latest monthly opinion poll on the government's performance.
Photo: CNA
Only Taipei Mayor Ko Wen-je (柯文哲), who scored 66.75, could compete with Lai, You said.
Tsai's rebound indicates that the public has high expectations for Lai, but if he fails to achieve tangible results in the short term, the disappointment could be equally high, National Dong Hua University professor Shih Cheng-feng (施正鋒) said.
Shih Hsin University journalism professor Peng Huai-en (彭懷恩) said he thought that Lai's popularity would wane if he has conflicts with Tsai, since most of Lai's Cabinet members are holdovers from Lin's, who were selected by Tsai in the first place and who caused support for Lin's Cabinet to fall.
However, National Chengchi University professor Yeh Kuang-shih (葉匡時) said that Lai could maintain his popularity if he is able to smoothly cooperate with Tsai and the Democratic Progressive Party (DPP) caucus because the public has grown indifferent to politics and has generally low expectation of Tsai's administration, and because the Chinese Nationalist Party (KMT) has proven to be an incapable opposition party.
"The inability to revive the economy is the greatest challenge facing the new Cabinet, which lacks the talent needed to reform the country's economy and industrial structure," Yeh said.
The amendment to the Labor Standards Act (勞動基準法) that led to the "one fixed day off and one flexible day off" workweek policy — revision of which is considered a priority for Lai — was disapproved of by 60.1 percent of respondents, the highest disapproval rate since the policy was announced in December last year. It was supported by 27.8 percent of the respondents.
Disapproval of each of the five branches of government far exceeds their approval rating with the exception of the Executive Yuan, of which 47.8 percent of respondent disapproved of and 39.6 percent approved.
Meanwhile, the poll indicates that the smaller parties are increasingly being marginalized.
While 30.2 percent of the respondents said they supported the DPP and 18.9 percent supported the KMT, only 6.4 percent supported the New Power Party (NPP) and 2.9 supported the People First Party, while 38.2 percent said they did not support any party in particular.
"The support for the KMT has dropped to its lowest since it came to Taiwan, and the NPP, which had a 15 percent support rate in July last year, is only a short way away from the 5 percent threshold [of legislator-at-large seats], suggesting the marginalization of small parties," You said.
The Legislative Yuan received a 61.1 percent disapproval rating and a 29.5 percent approval rating.
Of the other branches, the Judicial Yuan's ratings are 58.7 percent and 24.3 percent respectively; the Examination Yuan's were 43.6 percent and 29.9 percent respectively and the Control Yuan's were 55.3 percent and 24.6 percent respectively.
According to 53.6 percent of the respondents, the constitutional separation of the five powers should be revised, while 29.3 percent said it was unnecessary.
While 41.3 percent of the respondents said that former president Chen Shui-bian (陳水扁), who has served more than six years of a 20-year prison term for corruption, did not receive a fair trial, 37.1 percent said he did.
The poll was conducted on Monday and Tuesday last week and collected 1,074 samples with a margin of error of 2.99 percentage points.
Comments will be moderated. Keep comments relevant to the article. Remarks containing abusive and obscene language, personal attacks of any kind or promotion will be removed and the user banned. Final decision will be at the discretion of the Taipei Times.