Taipei rally draws about 100 temples
PROTEST TO CARNIVAL: Temple groups reached a compromise with the government that only one stick of incense would be used in each burner
Religious troupes with divine palanquins from about 100 temples across the nation yesterday paraded through the streets of Taipei in a rally that was initiated to protest a rumored government policy to ban incense burning, but was later defined as a "religious carnival."
Rally organizers estimate that about 50,000 people gathered at Liberty Plaza in front of the Chiang Kai-shek Memorial Hall at about 2pm before marching toward Ketagalan Boulevard with "holy generals" and temple staff carrying divine palanquins.
Onlookers lined up along the streets to witness the large number of religious troupes gathered in one event, a rare sight, as they are usually only seen at temples during deity pilgrimages.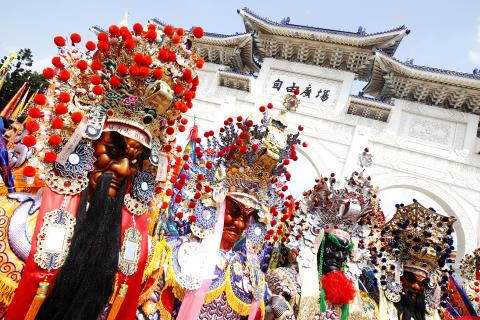 Local god puppets gather at Liberty Plaza in Taipei yesterday during a march protesting against the government's plan to reduce burning incense at temples.
Photo: Chiang Ying-ying, AP
Some believers knelt down and waited for Matsu's palanquin to pass over their heads, a ritual that is said to bring good luck and blessings.
Rally organizer Lin An-le (林安樂), chairman of Wude Temple (武德宮) in Yunlin County's Beigang Township (北港), said the temples attended the rally not to protest, but to protect religion and the passing down of beliefs.
Temples over the past decade have made efforts to reduce incense burning, he said, adding that after negotiating with the government over the past few days, they made a compromise that "one stick of incense shall be used in each burner, no more."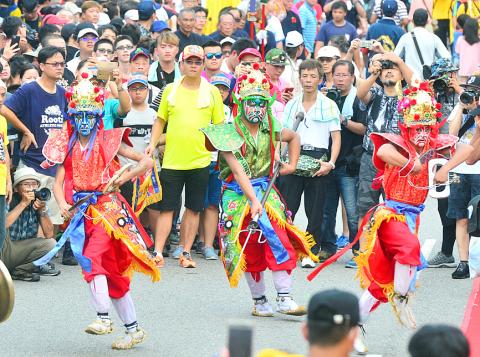 A Songjiang battle array troupe performs yesterday during a parade in Taipei against restrictions on the burning of incense at religious sites.
Photo: Wang Yi-sung, Taipei Times
The temples also urged the central government to supervise local governments in building specialized incinerators for burning joss paper (commonly known as "ghost money"), to stop them from being gathered and burned along with garbage, Lin said.
The government had never intended to ban incense burning, Democratic Progressive Party Central Executive Committee member Yu Cheng-hsien (余政憲) said at the rally, adding that it would invite temple representatives to discuss regulations regarding the burning of joss paper and lighting of firecrackers, as well as hold public hearings to discuss religious issues.
A rumor had been spreading online that the Environmental Protection Administration (EPA) is not only promoting a reduction in the burning of incense and joss paper, but also plans to impose a ban and gradually phase out the religious practice to improve the nation's air quality.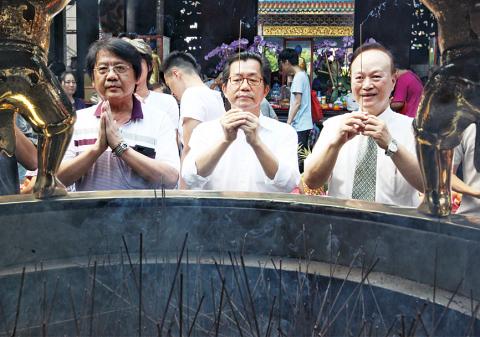 Environmental Protection Administration Minister Lee Ying-yuan, center, offers incense at Longshan Temple in Taipei yesterday.
Photo: CNA
Wude Temple representatives last month formed the Defending Faith and Incense Alliance and called for other temples to join them at the rally in Taipei.
The alliance at a news conference on July 4 said that the rally would not be a protest against the government, but a religious carnival that would appeal to reason.
"We have never mentioned banning incense burning," EPA Minister Lee Ying-yuan (李應元) said on Thursday.
The agency respects folk religious rituals and recognizes the temples' autonomous efforts to reduce incense and joss paper burning, Lee added.
The Cabinet on Thursday also denied the rumor and said it was a misunderstanding.
Comments will be moderated. Keep comments relevant to the article. Remarks containing abusive and obscene language, personal attacks of any kind or promotion will be removed and the user banned. Final decision will be at the discretion of the Taipei Times.