Academics pan Control Yuan 'abuse'
Seventy members of Academia Sinica, the nation's top academic institute, yesterday issued a joint statement denouncing the Control Yuan's impeachment of former Academia Sinica president Wong Chi-huey (翁啟惠).
Wong in January was indicted by the Shilin District Court on corruption charges relating to biotech company OBI Pharma Inc (台灣浩鼎).
While the trial continues, the Control Yuan on Tuesday impeached Wong, saying that he engaged in profiteering and other financial crimes linked to the OBI Pharma scandal.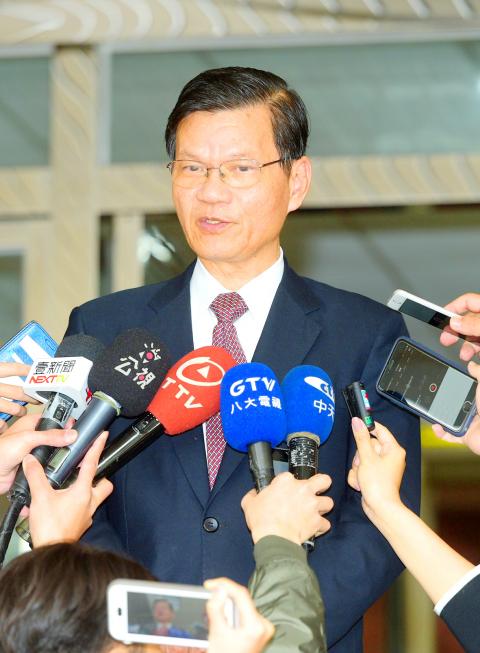 Former Academia Sinica president Wong Chi-huey speaks to reporters in Taipei on March 22.
Photo: Chang Chia-ming, Taipei Times
It forwarded the case to the Judicial Yuan's Public Functionary Disciplinary Sanction Commission to decide what punishment Wong would face.
The statement said the Control Yuan was being abusive and made an unsound judgement, citing Wong's stature as a top scientist with international honors and his contributions to the institution during his tenure.
"We hope Wong's involvement in the OBI Pharma case will be judged fairly. However, the judicial authorities did not abide by the fundamental principles of secrecy of investigation and presumption of innocence. As a result, the media produced many misleading reports, which greatly damaged Wong's reputation," the statement said.
"Despite Wong's case still being in the court, the Control Yuan adopted the prosecutors' partial accusations and hurried to finalize his impeachment without ever giving him the opportunity to defend himself," it said.
"We express our serious concerns about the undue procedure," it said. "Also, we strongly condemn the Control Yuan's unsound and abusive judgement on the highest academic institution's former president. We call on the judicial authorities to follow procedural justice and conduct just trials."
"Why have the authorities embarrassed him like this?" academic Lee Kuo-hsiung (李國雄) asked.
Wong transferred patent techniques to OBI Pharma when there was no review procedure, Lee said, adding that Wong helped set up Academia Sinica's review procedure during his tenure.
Despite the procedure, Wong's patent transfer was called illegal, which might affect investment in the biotech industry, Lee said.
Academic Wang Fan-sen (王汎森) said that the Control Yuan should not have made a rash judgement before the trial is complete.
Wong is a prominent biochemist who has worked in the US and had been touted as a potential winner of a Nobel prize for his research.
Appointed Academia Sinica president in October 2007, Wong began working on new cancer vaccine technologies and collaborated on research projects with OBI Pharma chairman Michael Chang (張念慈), a friend from the time he was at the Massachusetts Institute of Technology.
Wong tendered his resignation in March last year, which was approved by the Presidential Office two months later.
Comments will be moderated. Keep comments relevant to the article. Remarks containing abusive and obscene language, personal attacks of any kind or promotion will be removed and the user banned. Final decision will be at the discretion of the Taipei Times.