Alleged killer of three dies after shooting himself
A man who on Thursday allegedly shot three people dead before turning the gun on himself died from his injuries yesterday, police said.
The shooting in Taoyuan's Jhongli District (中壢) was the result of a dispute between rival gambling operations, police said.
Taoyuan police identified the alleged killer as Chang Chun-hao (張峻豪), 20, who they said shot himself in the head with a handgun when cornered in an alley after trying to escape from the crime scene.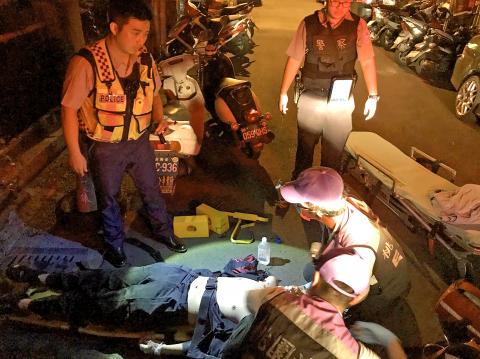 Paramedics attend to Chang Chun-hao after he shot himself in the head with a handgun in Taoyuan's Jhongli District on Thursday.
Photo: Chou Min-hung, Taipei Times
The killings were carried out execution-style, with Chang shooting the three people in the head on the eighth floor of an office building, Jhongli Police Precinct chief investigator Hsu Mu-sheng (許木生) said.
Two of the victims were men, surnamed Yin (尹), 23, and Ku (古), 22, and the other was a woman surnamed Huang (黃), 21.
Chang was armed with a Colt 9mm semi-automatic pistol and fired a total of nine shots, Hsu said.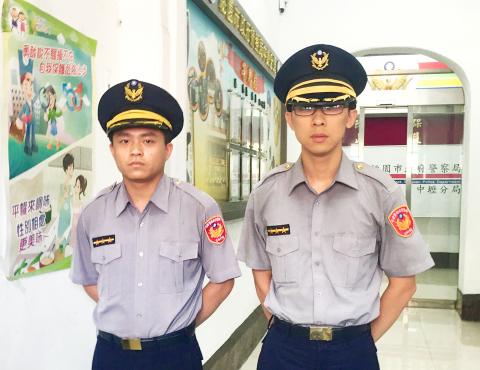 The two police officers who tracked down the alleged killer in Thursday's fatal shooting in Taoyuan's Jhongli District are pictured at the Jhongli Police Precinct yesterday.
Photo: CNA
Police questioned a man, surnamed Yang (楊), who was the sole survivor of the attack.
"The killer came into the office and I saw him fire one shot toward the window. As soon as I heard the gunshot, I hid under a desk. It was only after the gunshots died down that I came out to have a look," Yang was quoted by police as saying. "I was shocked to see the bodies of Yin, Ku and Huang, as they were covered in blood. I called the police on my mobile phone right away."
Police officer Pai Hung-hsiang (白泓翔) was among the officers who arrived at the scene.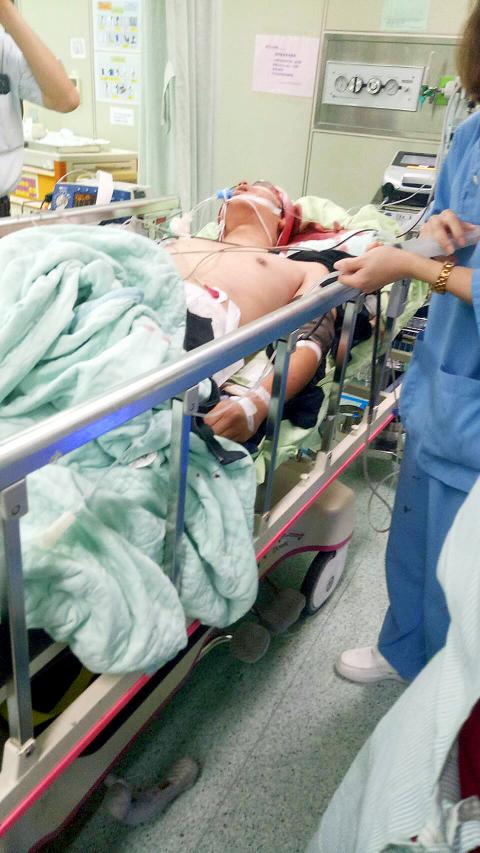 Chang Chun-hao, the alleged killer in Thursday's fatal shooting in Taoyuan's Jhongli District, is pictured in hospital after he shot himself in the head with a handgun.
Photo: Chou Min-hung, Taipei Times
Pai said he and the other officers saw Chang, dressed in black, exiting the building's front door.
He said they thought Chang looked suspicious and followed him.
The officers stopped Chang after following him for about 100m and asked him to show his identification card, Pai said.
"Chang seemed to cooperate and reached into his bag, but instead pulled out a gun and fired at us before fleeing into an alley. We were not hit and pursued him," Pai said.
"Another police unit arrived at the other end of the alley and cut Chang off, then he shot himself in the head just above the right eye and collapsed to the ground," he added.
A preliminary investigation found that Chang was operating an illegal online gambling site.
He was in a dispute over profits and competition with a rival illegal gambling site, headed by Yin and run by Yin's girlfriend, Huang, with Ku and Yang as employees, police said.
Police searched Chang's residence and office, and seized 15 computers allegedly used for taking bets on local and international sports games from paid members.
Chang made an estimated gain of about NT$3 million to NT$5 million (US$98,684 to US$164,474) per month from the illicit operation, police said.
Chang's operation started losing money in March, when more than 1,000 of his users moved to Yin's gambling site in response to a rumor that Chang was having financial difficulties, which he suspected was spread by Yin, a potential motive for the shooting, investigators said.
Comments will be moderated. Keep comments relevant to the article. Remarks containing abusive and obscene language, personal attacks of any kind or promotion will be removed and the user banned. Final decision will be at the discretion of the Taipei Times.