N Korean drones a 'grave provocation' S Korea says
Suspected North Korean drone surveillance is a "grave provocation" which violates the Korean Armistice Agreement, Seoul said yesterday, demanding a UN probe into a drone that crashed near the border between the two Koreas.
A drone, which had been photographing a controversial US missile defense shield, was discovered earlier this month after it crashed close to a sensitive military installation along the heavily fortified border, the South Korean military said.
"The latest action by the North ... is a grave provocation and a wanton violation of the armistice," South Korean Joint Chiefs of Staff first deputy director Jeon Dong-jin said, referring to the treaty which ended the 1950 to 1953 war.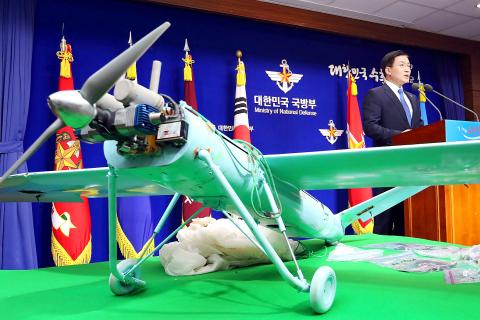 South Korean Ministry of Defense spokesman Moon Sang-gyun yesterday announces the outcome of a probe into a North Korean drone at the ministry in Seoul, South Korea.
Photo: EPA
A full investigation into the drone's wreckage discovered its planned itinerary and confirmed that it had taken off from the North before capturing more than 500 photographs of the South's territory, the South Korean Ministry of National Defense said.
"We strongly condemn the North's series of drone provocations and urge it to stop all such provocations immediately," Jeon said, vowing "strong retaliation" against any further actions by Pyongyang.
South Korea has requested an investigation by the UN Command, which is in charge of supervising the armistice that ended open conflict between the two sides, but has never been replaced with a final peace treaty.
The South Korean military said it was bolstering defenses against potential spying activities by North Korean drones, adding more border surveillance radars and anti-aircraft guns to shoot down drones.
Photographs retrieved from the latest drone include several overviews of the site for the Terminal High Altitude Area Defense system in the southeastern county of Seongju, the South Korean military said.
The powerful US antimissile system was installed this year to guard against growing missile threats from the nuclear-armed North.
Comments will be moderated. Keep comments relevant to the article. Remarks containing abusive and obscene language, personal attacks of any kind or promotion will be removed and the user banned. Final decision will be at the discretion of the Taipei Times.