Taiwan remains 14th in global competitiveness
Taiwan's world competitiveness ranking held steady this year at 14th, as it gained headway in economic performance and business efficiency, but lost points in government efficiency and infrastructure, the International Institute for Management Development (IMD) said in an annual report released on Wednesday.
That made Taiwan the third-best performer in the Asia-Pacific region after Hong Kong and Singapore, which scored first and second place among 63 rated economic entities, according to this year's World Competitiveness Yearbook compiled by the Lausanne, Switzerland-based institute.
"The challenges for Taiwan is to pursue a new economic model for sustainable development based on the core ideas of innovation, employment and distribution," the widely tracked report said.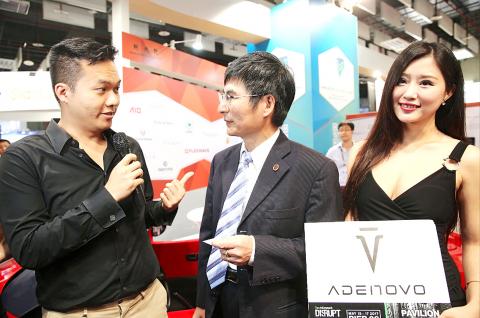 Minister of Science and Technology Chen Liang-gee, center, is interviewed yesterday as he visits the Computex Taipei exhibition at the Taipei World Trade Center.
Photo: CNA
Toward that aim, the nation has to accelerate industrial innovation and structuring; expand labor participation and recruitment of talent; foster social cohesion; and enhance environmental sustainability, including carbon reduction and energy saving, it said.
Although Taiwan saw improved GDP growth and foreign investment flows last year, the pace of increase lagged behind its peers, and showed a continued overconcentration on a few export destinations and products, the report said.
Electronic components, mainly semiconductors, underpinned the nation's outbound shipments to major trading partners, with China taking up a 40 percent share, official trade data showed.
The nation's rankings on tax policy, business regulation and social stability dropped, as corporate executives voiced concerns over political and social instability, as well as unfavorable rules for recruitment of foreign professionals, the report said.
The IMD said upgraded Taiwan's business efficiency by one notch, thanks to higher labor market and corporate management scores, despite the decline in productivity and production efficiency.
The financial sector remained a drag on business efficiency, as corporate managers said there was room for improvement on the part of banking institutions, capital markets and related regulations, the institute said, adding that Taiwan had fewer merger and acquisition deals, and lower credit card penetration.
The IMD also cited inadequate water conservation and development of alternative energy resources as the main reason for the two-notch decline in infrastructure ranking, the report said.
Carbon emissions and PM2.5 density highlighted the nation's lack of infrastructure readiness, the report said, adding that related legal compliance costs would affect corporate competitiveness.
The Ministry of Economic Affairs yesterday said the government would continue its deregulation efforts by amending the Company Act (公司法) and the Statute For Investment By Foreign Nationals (外國人投資條例), and reducing investment barriers to attract more foreign investment.
The government is stepping up efforts to improve infrastructure and remove investment hurdles, National Development Council Deputy Minister Kung Ming-hsin (龔明鑫) said.
The council also plans to ease tax burdens for foreign professionals, but the issue does not appear to be on the Ministry of Finance's priority agenda.
The finance ministry is due to draw up a tax reform plan later this month on whether to cut the levy on stock dividends.
Comments will be moderated. Keep comments relevant to the article. Remarks containing abusive and obscene language, personal attacks of any kind or promotion will be removed and the user banned. Final decision will be at the discretion of the Taipei Times.