Temer taped discussing hush money
Brazilian President Michel Temer gave his blessing to an attempt to pay a potential witness to remain silent in the nation's biggest-ever graft probe, according to plea bargain testimony by a powerful businessman, newspaper O Globo reported on Wednesday.
Temer's office on Wednesday acknowledged that the president had met in March with the businessman, JBS SA chairman Joesley Batista, but denied any part in alleged efforts to keep jailed former House speaker Eduardo Cunha from testifying.
Leading lawmakers and a third of Temer's Cabinet have already been caught up in an investigation of systematic bribery in return for political favors and contracts with state-run enterprises.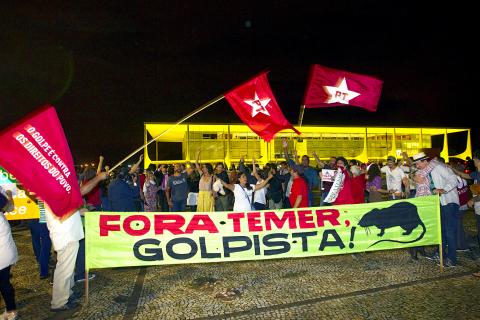 Demonstrators hold a banner that reads: "Out Temer, Coup!" during a protest against Brazilian President Michael Temer in front of Planalto Presidential Palace in Brasilia on Wednesday.
Photo: EPA
Scattered protests sprang up in front of the presidential palace and along Sao Paulo's main avenue as opposition lawmakers and even a high-profile ally called for Temer to step down.
"Given the gravity of the situation and the responsibility to keep Brazil from plunging into the imponderable, the only option is for President Michel Temer to resign," said Senator Ronaldo Caiado, leader of the government-allied Democratas party in the Senate.
Batista used a hidden device to record an alleged discussion with Temer about hush money the executive was paying to Cunha, the report said.
It did not say what Cunha was asked to keep quiet about.
When Batista told Temer he was paying Cunha to remain silent, the president was recorded saying: "You need to keep that up, OK?" according to the newspaper.
Comments will be moderated. Keep comments relevant to the article. Remarks containing abusive and obscene language, personal attacks of any kind or promotion will be removed and the user banned. Final decision will be at the discretion of the Taipei Times.