Cabinet announces budget to tackle narcotics issues
The Cabinet yesterday announced strategies to crack down on drug trafficking and rehabilitate drug users, with a four-year, NT$10 billion (US$331 million) budget to combat drug abuse and trafficking.
Premier Lin Chuan (林全) outlined the strategies, saying they would include a scientific approach to trace drug trafficking; the use of advanced drug testing instruments; the establishment of regional rehabilitation centers and personalized rehabilitation programs; and increased penalties for drug dealers.
A database to collate the known associates of drug users and traffickers is to be created using "big data" to help law enforcement personnel predict and track dealers, Lin said.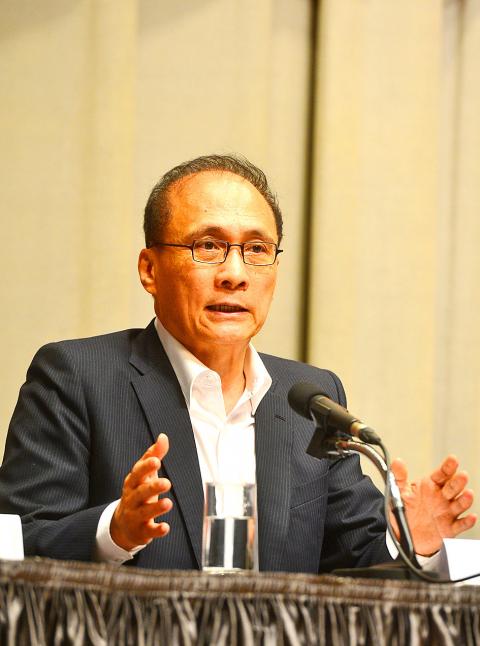 Premier Lin Chuan speaks at a news conference at the Executive Yuan in Taipei yesterday.
Photo: Wang Yi-sung, Taipei Times
Rehabilitation centers are to be established in the nation's north, center, south and east, he said.
The rehabilitation system, which has focused more on correction than medical care, is to be reformed to ensure that offenders will receive treatment, Lin said.
Regulations will be amended to increase penalties for people convicted of selling drugs to underage people and pregnant women, while the penalty for possession of small amounts of Category 3 and Category 4 narcotics will rise, he said.
Currently, people are convicted of possession of a Category 3 or Category 4 drug if they are found with more than 20g, Minister of Justice Chiu Tai-san (邱太三) said.
However, the Cabinet will seek to lower that threshold to 5g, with an amendment to be submitted for review in the next legislative session, Chiu said.
Possession of such substances in quantities below the threshold is punishable by a fine, but is not a criminal offense.
Law enforcement personnel are to be equipped with new testing instruments to crack down on drugs that are mixtures of substances.
"We hope to see results [from the strategies] by 2020, with the expectation being that there will be a drop in the number of new drug users and crimes associated with drug abuse," Lin said.
The NT$10 billion is to be invested in drug prevention programs from this year through 2020.
Currently, the annual budget is NT$1.2 billion.
About 230,000 people, or 1.29 percent of the population, have a history of substance abuse, while 48 percent of the nation's 27,000 inmates are incarcerated for drug-related crimes, government statistics showed.
Last year, 60,756 people were arrested for illicit drug use, while 11,081 were investigated on suspicion of drug trafficking, statistics showed.
Category 3 narcotics, such as Ketamine, are the most abused substances among students, with 7,962 such cases reported in the past five years, statistics showed.
However, that number is considered to be far less than the number of teenagers with drug abuse issues.
Smuggling accounts for the majority of the illegal drugs in Taiwan.
From May last year to February, 35 percent of prohibited substances discovered by law enforcement were sourced in Hong Kong, while 31 percent were from China, the statistics showed.
Comments will be moderated. Keep comments relevant to the article. Remarks containing abusive and obscene language, personal attacks of any kind or promotion will be removed and the user banned. Final decision will be at the discretion of the Taipei Times.