Cabinet approves bill to attract skilled foreigners
'CREATIVE ENVIRONMENT': Foreigners who fall into one of the categories sought by the government would be given an 'employment gold card,' according to the bill
The Cabinet yesterday approved a draft bill relaxing the restrictions on foreign white-collar workers in a bid to attract skilled foreigners for the government's "Asian Silicon Valley" initiative.
The draft bill would relax the regulatory constraints on residence and work permits, taxation, internships, healthcare and retirement benefits.
The bill is aimed at attracting three categories of workers: general specialists, including freelance workers, artists and teachers; specialists of designated fields, including science, economics, education, culture, sports and others; and senior specialists, including highly skilled professionals, university professors, Olympic medalists and coaches of national sports teams.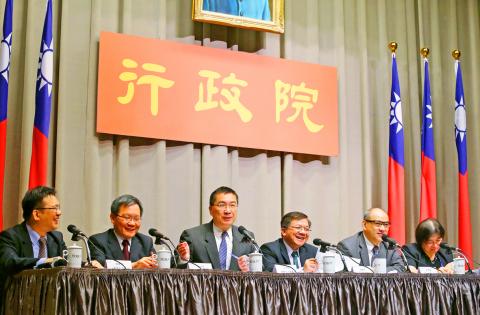 Executive Yuan spokesman Hsu Kuo-yung, third left, yesterday speaks at a news conference at the Executive Yuan in Taipei announcing proposed new regulations for skilled foreign workers.
Photo: CNA
An "employment gold card" — a four-in-one residence and work permit that consists of a resident visa, an alien resident certificate, a re-entry permit and a work permit that allows foreign workers to transition between jobs without their employer's consent — would be given to foreign specialists.
The act would also extend the residency period for foreign employees from three to five years and scrap a regulation requiring workers with permanent residency to stay in Taiwan for at least 183 days every year.
A one-year resident visa would be offered to the family members of foreign workers, while children of holders of an alien permanent resident certificate would be allowed to work in Taiwan.
The spouse and children of foreign workers with an alien permanent resident certificate would also be able to apply for the certificate.
Workers with an alien permanent resident certificate would also be eligible to receive monthly pension payments. The spouse and underage children of a foreign worker would be allowed join the National Health Insurance (NHI) program without having to wait for six months.
Specialists of designated fields with an annual salary of more than NT$2 million (US$65,772) would be eligible for a three-year 50 percent tax exemption on their wages.
Visa regulations would be relaxed for students and college graduates seeking internship in Taiwan.
Foreigners seeking to work in Taiwan under the act must either have work experiences with a monthly salary of more than NT$47,971 or have a degree from one of the world's top 500 universities.
"The key to pushing ahead with the 'Asian Silicon Valley' project is to attract top foreign talent and build a creative environment for Taiwanese," Premier Lin Chuan (林全) said.
In a bid to build an ecosystem for technology start-ups, the National Development Council, in addition to preparing the draft act, has a budget of NT$100 billion to help Taiwanese industries transition to Internet of Things technologies, augmented and virtual reality technologies, artificial intelligence, self-driving car technologies and medical care.
Comments will be moderated. Keep comments relevant to the article. Remarks containing abusive and obscene language, personal attacks of any kind or promotion will be removed and the user banned. Final decision will be at the discretion of the Taipei Times.