No independence for Taiwan, HK, Chinese premier warns
ANNUAL MESSAGE: The Chinese premier said Beijing would never tolerate any actions to separate Taiwan from 'the motherland,' but it would try to increase ties
China will firmly oppose Taiwanese "separatism," Chinese Premier Li Keqiang (李克強) said yesterday, following tension with US President Donald Trump over Taiwan, and said that Hong Kong independence moves would "lead nowhere."
"We will resolutely oppose and contain separatist activities for Taiwan independence," Li said in a speech opening the annual session of China's National People's Congress (NPC) in Beijing.
"We will never tolerate any activity, in any form or name, which attempts to separate Taiwan from the motherland," he said.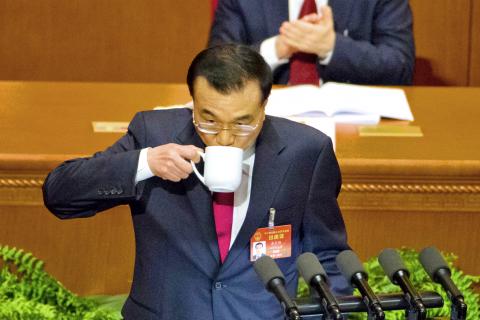 Chinese Premier Li Keqiang yesterday sips from a cup as he pauses during his delivery of a work report to the opening session of the annual National People's Congress in Beijing's Great Hall of the People.
Photo: AP
China will protect national sovereignty and territorial integrity while safeguarding peace and stability, he said.
However, Li extended the usual cautious olive branch across the Taiwan Strait, saying that China would continue efforts to increase linkages with Taiwan, which have included rising cross-strait investment, daily direct flights and increased tourism.
"People on both sides of the Taiwan Strait should keep in mind the greater interests of the nation," and work toward the "reunification of China," he said.
In Taipei, the Mainland Affairs Council said the government's policy to continue and promote peaceful and stable cross-strait development remains unchanged, adding that China should respect and understand Taiwan's democracy.
Saying peace and stability across the Strait is a mutual responsibility, the council called on the Chinese government to consider the welfare of the people as its priority in policymaking, and reduce maneuvering for political benefit.
Li also shut down any hope of Hong Kong independence.
"The notion of Hong Kong independence will lead nowhere," he said, adding that Beijing would ensure that the principle of "one country, two systems" is applied in Hong Kong and Macau "without being bent or distorted."
Li's annual report to the highly choreographed congress is akin to a state-of-the-nation address highlighting key government priorities for the year, which are then typically parroted in subsequent delegate meetings.
Trump raised eyebrows following his election victory in November last year with a protocol-busting telephone conversation with President Tsai Ing-wen (蔡英文) and later threw doubt on the US "one China" policy, suggesting that the decades-old diplomatic formulation was up for negotiation.
The 10-day NPC session runs until March 15.
Additional reporting by Lin Liang-sheng
Comments will be moderated. Keep comments relevant to the article. Remarks containing abusive and obscene language, personal attacks of any kind or promotion will be removed and the user banned. Final decision will be at the discretion of the Taipei Times.